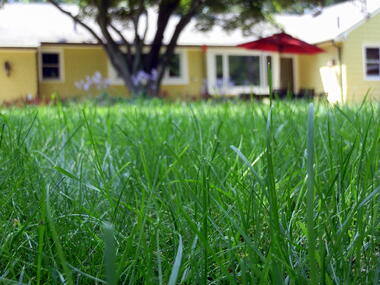 Organic lawns provide major advantages for your family and the environment. Your home is a major source of pride, and you want it to look great all the time. When you need to maintain your lawn, it's important to find a solution that works well for your lifestyle, but is healthy for everyone.
Here's five unique advantages of organic lawns:
Advantage #1: Kid and Pet-Friendly
An organic lawn is a very worthy addition to a yard that your kids and pets will spend a lot of time in. Because there aren't any harsh chemicals or pesticides involved, it helps your yard become a safe area where everyone can play, without any worries. The natural soil biology helps your yard become an ecosystem that attracts wildlife like butterflies and songbirds, instead of driving them away.
Advantage #2: Low Maintenance Demands
One of the things that homeowners enjoy the most about organic lawns is the fact that the maintenance demands are few. Even when you have a professional landscaper taking care of your lawn, you still want it to be as easy as possible. Organic lawns lack a lot of the maintenance problems that plague most other lawns.
Advantage #3: A Natural Fit
Arlington, Watertown, Cambridge and the surrounding areas boast a lot of homes with beautiful yards that blend in with local scenery. Organic lawns are a good fit because they look good, even under adverse weather conditions. If you've been seeking a solution that looks great all the time, without detracting from your yard's natural look, this is what you need.
Advantage #4: An Easy Solution for All Yards
You might think of landscaping as something that's most suitable for huge estates out in the country. However, it is easier than you might realize to have a beautiful organic lawn planted. One of the advantages of our service is the fact that you'll deal with the same friendly, helpful person for all your needs.
Advantage #5: The Nicer Alternative
Some homeowners have chosen artificial turf because of maintenance concerns. However, this results in an unnatural look that simply doesn't complement your home. When you choose an organic lawn, especially if you include native plants, you'll have a lawn that is truly something to be proud of.
Switching over to an organic lawn is a great choice if you want a low-maintenance solution. Your kids and pets can safely play in these areas to their hearts' content, without having to worry about their exposure to harmful chemicals. You'll also have a yard with an appearance that you can be proud of, year after year.