Your yard is an extension of your home. It is a place for rest, relaxation, play and rejuvenation. For children in particular, a backyard is a magical space where many memories are made. Long days playing outside, getting dirty, laughing and running are a universal childhood experience. The backyard is seen differently through the eyes of a child - tall grass or flowers becomes a jungle and a play structure becomes a fort, a castle, or a pirate ship.
To help transform your backyard into a kid-friendly location, incorporate the following elements:
#1. Play Structure
Whether simple or complex, a safe and sturdy play structure creates plenty of fun and memories for children. Play structures come in many sizes, materials and styles.
#2. Flat Green Space For Romping
Perfect for kicking a ball, playing tag or running off that boundless childhood energy, a flat, grassy area is a must. Choosing hardy yet attractive grass for your area and maintaining it can be tricky. Your landscape professional can suggest the best type of grass for your play space.
#3. Secure Fencing And Safety
It is important to be mindful of safety when designing a kid-friendly backyard. Secure fencing is essential. It is also good to look at the yard from a kid's perspective. Are there any potentially dangerous areas, such as ponds or other water features? An experienced landscape professional can ensure that your outdoor space isn't just beautiful and functional, it is also safe.
#4. "Wild" Area
Having a free-flowing garden area for children to play in is essential for encouraging imagination. There are many ways to go about this. For example: a beanpole teepee, a forest of sunflowers, a spiral pathway surrounded by tall-growing grasses or flowers. A backyard is magical, and should have a bit of "wild" space.
#5. Storage For Bikes, Toys, Etc.
Clever storage that keeps bikes, scooters, balls and other smaller outdoor toys tidy and out of the way is a good way to keep your yard free of clutter and easy to clean up.
If you are in the process of planning your outdoor area, your landscaper can help design and create a space that is perfect for entertaining, relaxing and having fun with the kids. Expert design allows the different elements of your yard to work together perfectly. Much like your home has a living room, kitchen and dining area, a landscape design professional can create outdoor "rooms" so that you can get the most of your outdoor space.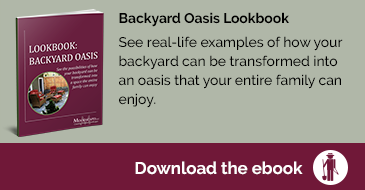 Photo credit: Austin Kirk