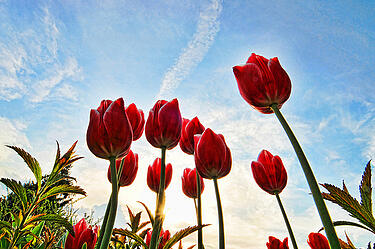 Now that spring has (almost) sprung, you might notice that your landscaping is looking a bit sparse and sickly.
Don't worry, that isn't uncommon, but an easy way to usher in the spring in style is to consider custom landscaping.
Custom landscaping can make a home feel fresh, alive and new. We've collected seven signs that indicate it might be time to call in the professionals in regards to your landscaping. Does your home tick these boxes?
1. There Is No Curb Appeal
They say that you don't get a second chance to make a first impression. This is true for houses, too. If you feel like your home lacks curb appeal, you will want to call in a professional landscaper to offer up some ideas for customized landscaping. When you create an appealing entrance, you'll feel better about your home, in general. It also makes the neighborhood look better, and it can greatly increase the value of your home, if you are considering selling.
Every home should have a well-lit and safe pathway to the door, as well as complimentary landscaping. This not only helps your home feel "put together", but it will make it more welcoming when you come home, or have guests over.
2. It Feels Like The Neighbors Are On Top Of You
When you live in a community, you expect to have your neighbors relatively close, but that doesn't mean they should feel like they are living right on top of you. It is possible to create an outdoor oasis, even in the middle of a suburban subdivision. Custom landscaping can create a natural barrier that offers you and your family the privacy you desire, while living conveniently within a community.
3. There Doesn't Seem To Be A Good Outdoor Entertaining Area
Most people make the decision to upgrade to a home rather than an apartment because they are looking for some outdoor space. Many homeowners find that they can't figure out how to best utilize their outdoor space for entertaining, even after they've purchased a home. Custom landscape can take any backyard, whether it is the size of a postage stamp, or a sprawling green space, and create designated areas for entertaining that are comfortable, aesthetically appealing and efficient. Your personal preferences and personality will play greatly into the design, so make sure you communicate with your landscaper about your wants, needs and preferences.
4. The House Feels "Plain"
When you live in a suburban setting, or even some urban settings, houses can seem to just blend together. For those of you who have purchased a home in a new community, you are probably familiar with the "cookie cutter" look that many homes now have. While this works for some people, it can feel really drab and boring to others.
You can easily make your house unique with custom landscaping. Creating flower beds with flowering plants and shrubs can add a pop of color and a unique feel to just about any home. Speak with a designer to decide what types of plants would work best with the exterior of your home. You can even choose to add beds around the area that will flower at different times during the year to keep the colors blooming year round.
5. Your Grass Keeps Dying
Dying grass is a common complaint among homeowners, especially those who live in climates that are a bit harsh. Simply put, grass is alive and it needs to be properly treated to ensure it stays healthy and lush. If you encounter grass that is constantly dying, or you notice patches of dead grass, it might be time to call in a custom landscape expert.
First and foremost, a landscaper will attempt to figure out exactly what is the root cause of the problem. Pets, are a common enemy of grass, so your issue may be as simple as keeping your pets from using the grass in your yard as their personal toilet bowl. Lawn disease, poorly placed sprinkler systems, and misuse of chemicals and fertilizers may also be potential causes. A custom landscape company can help determine the problem, and create a landscape that will work for your property.
6. The Landscape Is Looking Overgrown
Overgrown landscape is not only unappealing to look at, but it may be a potential safety hazard. If your shrubs and trees are looking overgrown you may want to call in the services of a professional, custom landscape company. This type of service will inspect your existing landscape and figure out what needs to be removed or cut back. That job will be completed, the custom landscaping will be brought in to fit the feel of the property, and the home. Your personality and personal preferences can be injected into this process. Communicate with your landscaper. Tell them what feel you are going for, and the level of care and maintenance you are willing to commit to. This information will help the landscaper pick products and shrubbery that best fits your needs.
7. The House Looks Too Dark At Night
A home that looks too dark at night is not only unappealing, but could potentially be unsafe. When your grounds are not well lit, you open yourself up to the possibility of tripping and falling, and you make it easier for thieves and criminals to hide in darkened patches. A custom landscaper can work with you to create lighting that highlights bushes and shrubs, and makes your walkway bright and appealing. The front of your home will also be safer during the evening hours.
If you shook your head yes to even a few of these signs, the it might be time to consider custom landscaping. You might think custom landscaping needs to be reserved for stately mansions and old-world estates, but the truth is, any home can greatly benefit from custom landscaping, and so can the home's residents.
Photo credit: Tambako the Jaguar / Foter / CC BY-ND Photo credit: ClatieK / Foter / CC BY-ND