A fruit and vegetable garden is a great way to customize your landscape in New England.
All the plants in the garden design below were chosen to promote bio-diversity. Many plants with either berries or nectar were integrated for birds, butterflies, and bees (not all are listed). Herbs are integrated with perennials and strawberries as well. The below image labels the back yard new plantings as well as the existing plants we kept and worked into the new design layout.


In the picture below, the vegetable beds (represented as rectangles) are on the right side of the house. A kiwi vine and a couple grape vines were used on the fence on the back right. Pear trees are on either side of the front walkway and blueberries are planted along the back fence.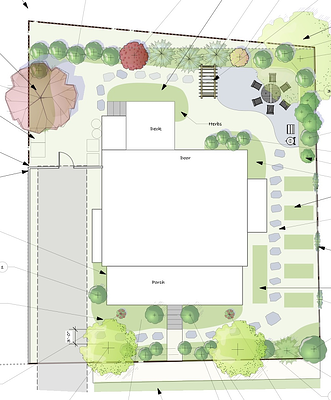 The garden design was done staying as native as possible and the homeowners are loving their new customized landscape design; with favorite vegetables and fruit growing in their own yard!
If you are interested in integrating your favorite fruits and vegetables in your yard, we would be happy to help you brainstorm ideas and possibilities. All of our jobs are considered personal landscapes customized to the clients request.