Six high rise buildings over looking the George Washington Bridge and Manhattan Sky Line are home to former NYC residents who are "escaping city life". Fort Lee, NJ sits on the top of a cliff with a mountain-like climate, high winds and cold winters. My father-in-law was the landscape architect assigned to this community and was faced with the problem of finding a hardy, all season interest plant to put in the garden beds at the main entrance. Being the creative and innovative landscape architect he is, my father-in-law suggested a plant known for its hardiness and extended season. It has yellow, red, and orange foliage in the autumn, yellow-green to reddish stems for winter interest, urn-shaped white flowers in May, and a tasty blue fruit. What has all of that? A blueberry bush, the Vaccinium corymbosum.

His proposal was questioned numerous times-- a blueberry bush in the front of a multi-million dollar high rise complex, home to retired NYC residents who felt they were moving to suburbia by leaving the heart of Manhattan to only be 10 minutes outside the city with a panoramic view of the city skyline?!? Was he crazy? No, he was innovative and persistent. The highbush blueberry shrubs were eventually "okayed" and planted in front of two of the six buildings.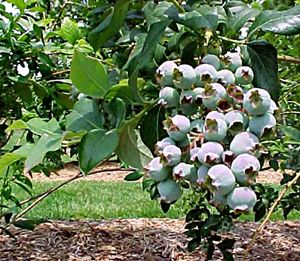 After a year or so, the lifelong city dwellers got to do something they never imagine, dreamed or even thought of possibly doing. Every morning, you would see these elderly urban dwellers go out their front door dressed in their designer robes, and pick fresh blueberries for their breakfast. As these women "foraged" for their food, they got to finally taste the fruits of gardening; something they never thought possible from their NYC life style.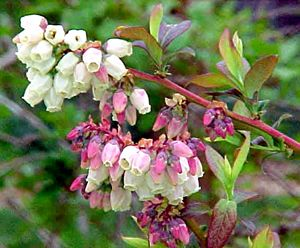 Planting a blueberry bush in an urban setting may not sound as innovative now as it was in this story from 12 years ago. Integrating fruit and vegetables into landscapes is a new sustainable type of garden that many homeowners are looking to do. As in any garden, it is important to plant properly according to the hardiness zone. In addition to planting within your zone, proper consideration of the many existing conditions such as sun and soil conditions must be given. (For more information regarding plant selection, please read: http://www.moodscapesdesign.com/blog/bid/55846/Choosing-the-Right-Plants-for-Your-Yard). Edible gardens are a great way to incorporate sustainability into landscape design, both in suburban and urban yards. Fruit and vegetable shrubs and plants can be integrated into any landscape style, it does not have to have a certain area of a yard dedicated to just fruits and veggies.
If you have interest in creating an edible fruit and vegetable garden in your yard, urban or suburban, please reach out to our team and we would be happy to get you started.