Before starting in your garden, make sure to get your soil tested. Many gardeners and landscape professionals forget this step and plant incorrectly. It is important to know the basic information about your soil in order to what know what and where to plant in your garden.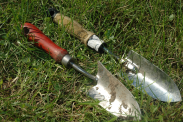 The typical next question is, "what is a soil test?" And it is a good question!
A soil test is the analysis of a soil sample to determine nutrient content, composition and other characteristics, including contaminants. Tests are usually performed to measure the expected growth potential of a soil. It measures fertility, indicates deficiencies that need to be remedied and determine potential toxicities from excessive fertility and inhibitions from the presence of non-essential trace minerals. By testing your soil you will know how to improve your soil's composition and plant growth, and better your garden results. (For example, a hydrangea's bloom color changes according to the acidity of the soil). It is especially important for new homeowners to test their soil before investing in new plantings or garden beds. A lot of times older homes will have lead in the soil making vegetable gardens unsafe to plant.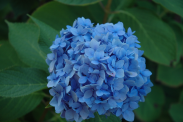 A soil test is the best starting point in the spring in order to optimize your plant, shrub and grass production and growth. It will improve the soil's nutritional balance
 and therefore conserve energy by applying the right amount of fertilizer and water needed. Another benefit of soil testing is to identify soils contaminated with lead or other heavy metals.
You can preform soil tests yourself by buying a do-it-yourself kit at your local garden supply store. For a more comprehensive test, check your local state university agricultural program for soil testing. Most state universities accept samples from all and are able to run a more thorough test than a do-it-yourself kit.
Be aware that problems can occur if you plant too soon, so once your soil has been tested, make sure the ground is no longer frozen before planting or transplanting.
The two biggest concerns with planting too soon:
1- Compaction: Trying to plant too soon, will disturb the soil structure. Disturbing soil structure is detrimental and can cause compaction. Compact soil makes growing plants and lawn extremely difficult.
2- Oxygen: When soil structure is changed, oxygen can be lost from the soil which will prevent plants from growing correctly.
Test your soil and stay up-to-date with the weather reports to plan your garden accordingly!