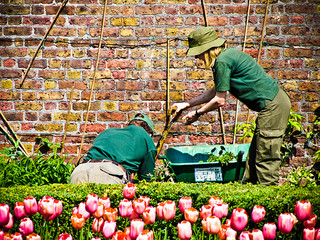 Choosing a garden designer can be more difficult than it sounds. Although there are a lot of great ones out there, not every designer is willing to meet your high standards. If you've got something very specific in mind, you may find that not every designer will be able to get the job done in the way that you imagine.
Then there's the environment to think about. You absolutely want a designer that takes the local ecosystem into consideration. To help you get started, take a look at our four top tips for choosing a garden designer.
Tip #1: Look for experienced local professionals by using sites like APLD, NOFA, NELDHA, EcoLandscaping, and BBB.
Start your search with the APLD. The APLD, or Association of Professional Landscape Designers, is an international organization that recognizes those designers who are qualified and dedicated professionals. APLD members are encouraged to take continuing education classes and stay up-to-date on all the latest trends in garden design.
NOFA, the Northeast Organic Farming Association, is just for farmers. Gardeners, homesteaders, and landscapers can join this organization, and consumers can use its website to search for them.
NELDHA is the New England Landscape Design and History Association. New Englanders can head here to search for local landscaping professionals. Each organization is listed alongside their specialties, so it's easy to find an organization that does great residential or commercial landscapes. Their listings are excellent, especially if you're looking for something very specific, like historic garden design.
The Ecological Landscape Alliance website, EcoLandscaping, lists a variety of designers who adhere to the Alliance's principals of natural landscaping.
Finally, the Better Business Bureau is a great resource to weed out any especially sketchy organizations. Their goal is to help consumers find trustworthy businesses, brands, and charities.
Remember that just because a service isn't listed on one of these websites doesn't mean it's not a great design company that adheres to organic practices. If you've got your heart set on a designer that isn't a member of any other organization, do a thorough inventory of their online portfolio and ask the company whether they have any references.
Tip #2: Find a compatible designer for your style and project goals by looking through their job portfolios to see if they have completed a garden that you like.
Make sure the designer you choose is capable of completing the type of garden you want. Also, make sure you read their blog articles to get a better understanding of company practices and ideas.
In the modern business world, a company website shouldn't be limited to mere contact information. Good garden designers will host a sizeable photo portfolio that clearly shows the great work they've done in the past.
As you scroll through the images, ask yourself whether the work you see resembles the kind of garden you want for your property. If you have a very specific vision, not just any designer will do. You need one that can work with you to make your vision come to life. Even a talented designer won't be able to create a garden that's outside their realm of expertise.
Scroll through the company's blog postings to get a better idea of what they're about. By doing so, you can figure out whether or not you agree with a designer's views on landscaping and related topics. If you don't, keep looking until you find one that thinks like you do.
Tip #3: Make sure you and your garden designer have compatible environmental concerns.
If organic and sustainable practices are important to you, you'll want to choose a designer who puts these ideals into practice. These days, any professional organization worth its salt will have a good understanding of possible environmental impacts and natural practices. If a potential designer doesn't seem to care about these issues, it's time to move on and find one who does.
Tip #4: Ask your friends, neighbors, and local nursery for recommendations.
If your friends and neighbors have beautiful gardens, find out who designed them. You may even find that these designers are ones you've already investigated. If you're looking for something a little more exclusive than what your friends like, see what your local nursery has to say. You can bet that a nursery will be able to make an appropriate referral.
To achieve the best possible results, you've got to do a little legwork. And, once you've done your homework, you're almost certain to end up with the right garden designer for your unique project. When you're lounging around in the garden you've been daydreaming about, you certainly won't regret taking the time to find the right garden designer.
Photo credit: garryknight / Foter / Creative Commons Attribution-ShareAlike 2.0 Generic (CC BY-SA 2.0)