In 2005, Boston Magazine's Home & Garden section featured Moodscapes in their "Water in the Woods" article, as a landscape design company in Massachusetts with the ability to create a woodland garden design from a woodsy, sloped yard.
A woodland garden sounds slightly magical, but what exactly is a woodland garden?
For beginners, the first part of designing a woodland garden is by analyzing the current yard conditions as well as gathering information from the client as to what senses they want to activate with their woodland garden- sight, smell, and/or sound.
A previous client in Canton, Massachusetts wanted to both hear water trickle and see a pond from her kitchen window. Our landscape design company suggested the idea of having a pond with a series of mini-waterfalls in order to increase the sound quotient by creating several splashes on the way down. We put in koi, a native fish that is able to hibernate beneath the water in the winter. Along with koi, river rocks and water plants, including lilies and lotus, filled the pond. To surround the water feature, native plants were chosen, such as viburnum and dogwood, which can survive the saturated conditions from the falls and pond. For the rest of the yard, native plants that are able to survive in constant shade were mixed in to fully create a woodland garden.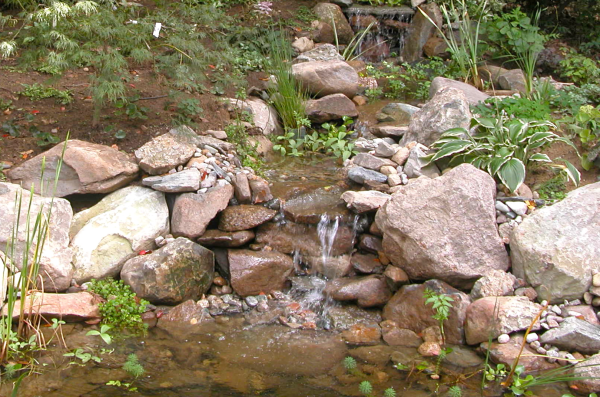 As a result of this careful planning, the pond and falls blend seamlessly with their surroundings, looking like a natural part of the landscape. The satisfied client said, "She [Judith] gave it the exact feeling that I wanted it to be".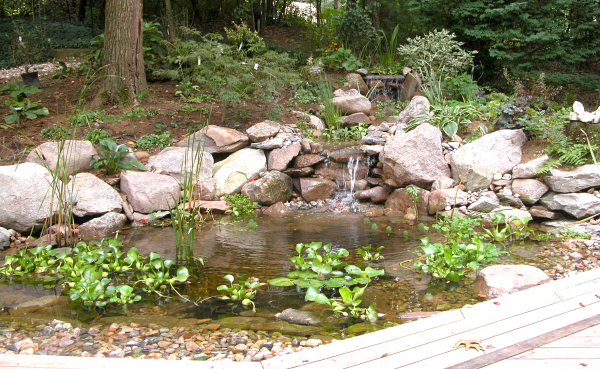 For a more detailed description of the Design Process, download our free guide: