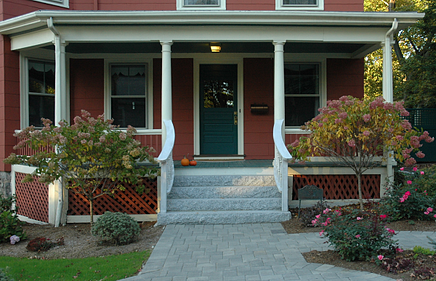 A landscape that is well designed and installed will increase curb appeal which can also increase property value.
Important Factors for Enhancing Curb Appeal
1. Pathway- Create an inviting front entrance by choosing colorful and fragrant plants that welcome everyone into the house. An easy to follow path with quality and well maintaned brick or stone increases functionality of the frontyard.
2. Privacy- Plan out the placement of larger trees and shrubs in the front yard in order to get the most shade and privacy from them. Large trees and shrubs can also reduce the noise level from traffic and neighbors.
3. Paint- A fresh coat of paint on the front door, shutters, and house will always attract more people into a home. If you are trying to sell your house this season, it is especially important to fix all chipping paint (inside and outside) before the house goes on the market.
Click here, for a more detailed article of a landscape design project we completed with the goal of CREATING CURB APPEAL.