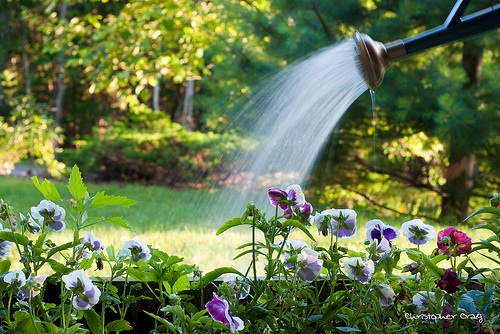 10 Easy-To-Follow Gardening Tips
1. Don't be afraid to ask for help! Ask a professional, a neighbor, Google, Bing, or anything that may be able to answer your questions regarding your front, side, backyard garden or even a new garden design!
2. Know Your Site. Understanding the different weather climates your yard is exposed to as well as the general climate of your area.
3. Part of climate is hardiness zone. Make sure to identify your USDA Hardiness Zone before choosing the plants and shrubs you want to plant.
4. Additional site conditions to identify and understand:
-Sun/Shade Location: some plants require full sun exposure, while other would much prefer full shade and a cool climate

5. Wrong Plant, Wrong Place! A simple garden mistake is neglecting to understand your plants' needs: How much sun? shade? dry soil? moist soil? does it require? A comprehensive soil test is highly recommended in order to match the correct plants with your soil type and condition.

6. Fertilizer! The right amount of fertilizer is important to understand- too little won't do anything and too much could result in pests or diseases. Carefully read and follow the directions.
7. What about mulch? A three-inch layer of mulch is beneficial to the health and growth of many plants..
8. Know your plants! Before you plant, learn about the max growth measurements for each plant in order to give them enough space to grow.
9. Prep the soil. In conjunction with soil testing, loosen the soil when planting to give yourself enough space to make soil amendments as you plant.
10. WATER! When you are educating yourself on plant growth, make sure to gather information on their watering needs as well. Be careful not to drown them or dry them out.
Plants have varying needs so for the best results, get to know them before you buy or plant them!

Want to learn how to create a landscape for your yard that will help you relax, connect with nature, and replenish your energy? Please download our free ebook, How to Maintain Your Landscape and Transform It Into a Beauty You'll Love.