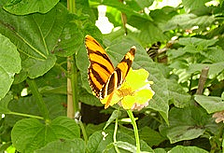 Want to attract butterflies to your garden? It's easy!
A special garden isn't required to attract butterflies. If there are plants in your garden that appeal to them, butterflies will find them. Different species of butterflies have different preferences in plants. The most common plants to attract butterflies are those most of us consider weeds. Beside the typical weeds, there is still a wide variety of plants that should attract at least a few visitors.
Here is a list of a few favorite perennials to add to your butterfly garden plant list:
| | |
| --- | --- |
| Common Name | Latin Name |
| Aster | Asters spp. |
| Black-Eyed Susan | Rudbeckia hirta |
| Blueberry | Vaccinium spp. |
| Blue Mist Shrub | Caryopteris |
| Butterfly Bush | Buddleia davidii |
| Butterfly Weed | Asclepias tuberosa |
| Sumac | Rhus spp. |
| Viburnum | Viburnum opulu |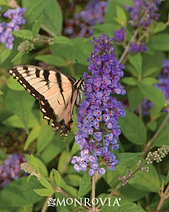 A Moodscapes favorite: Chim Chiminee Black-Eyed Susan (Rudbeckia hirta 'Chim Chiminee')
Blooms with amazing color from July until the first frost!
From planting to just observing, creating a butterfly garden, or simply planting perennials which attract butterflies to your garden, is a fun activity everyone can enjoy!
Take a close look at your garden and see which shrubs and/or perennials attract butterflies!