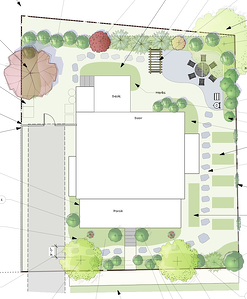 A commonly asked question is about the difference between landscape designers and landscape architects. Although they both require extensive training, education and licensing in a similar field of study, there are explicit differences between them.
Landscape designers and architects are distinguished in the nature of their design projects, the scale and scope of the project, and the degree of technical expertise needed to complete the project. Usually, landscape design concerns the design of gardens and smaller, residential landscapes that do not involve technical solutions or large infrastructure systems. Landscape architecture, however, often deals with technical design problems of great complexity that require the construction of infrastructure systems.
With the licensing required for landscape architects, they take responsibility for the health, safety, and welfare of the public in the work they do. This allows them to work on large scale projects like parks, recreation facilities, institutional and commercial buildings, parking lots, and habitat restoration projects. By contrast Landscape Designers have no legal responsibility to the health, safety and welfare of the public, and generally only design small commercial or single-family residential gardens and landscapes.

For more information regarding landscape architecture, use this ASLA webpage.
For more information regarding the landscape design process, please download our free guide below.