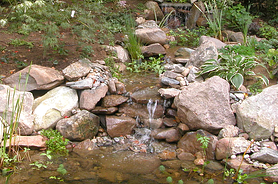 The term "healing garden" is used more commonly, but what does it actually mean and how does a garden become a healing environment?
Clare Cooper Marcus, an expert on healing gardens, provides clarification about what they really are:
"The term 'healing garden' refers to a variety of garden features that have in common a consistent tendency to foster restoration from stress, as well as other positive impacts on patients, visitors, staff, and caretakers. To qualify as a 'garden,' the feature should contain prominent amounts of real nature . . . . to justify the label 'healing,' a garden should have therapeutic or beneficial effects on the great majority of its users."
The garden should also allows for physical movement. Strolling paths as well as sitting areas for resting are key aspects. One of the largest, yet often forgotten parts of a healing garden is the natural and positives distractions that are strategically placed by the designer. A positive distraction is an environmental feature or situation that promotes an improved emotional state in the perceiver. It may also block or reduce worrisome thoughts and contribute to beneficial changes in physiological systems such as lowered blood pressure and stress.
For more information on healing gardens, visit our webpage. If you are interested in designing a healing garden for your yard, download our design process guide to start the process off correctly.