Native plants of the northeast have the best fall color in New England displaying a wide variety of reds, oranges and yellows. This shrub is extremely hardy, with foliage lasting through some of the winter.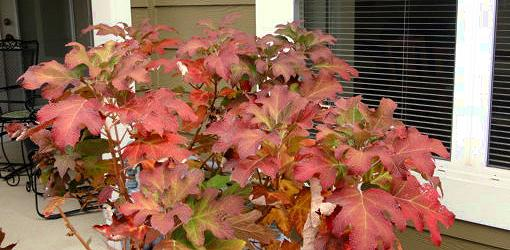 The photo to the right is the the Alice Oakleaf Hydrangea, one of the most commonly used native plants of the northeast. It has deeply lobed, oak-like leaves and a profusion of large white blooms. An added bonus, foliage turns brilliant crimson in fall.
When designing a new landscape plan for your yard, choosing plants with fall color with extend your garden's life into the fall and even the winter! The best fall colors in New England come from plants native to the area.