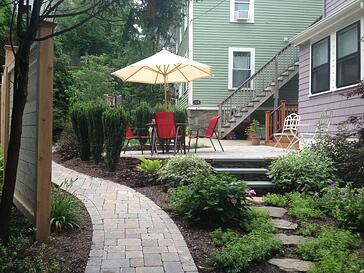 The key to profoundly satisfying personal landscape design is the "something extra" that delivers a landscape capable of retaining its personalized magic that delivers the mood you and your family want to invoke. This can only be accomplished by selecting the right materials and plants according to their texture, color, scent, and even taste. It is details like these help transform a landscape into a therapeutic healing garden - a place for the family to relax and unwind. Winds waft perfect fragrances, textures are coordinated with complimentary colors. Shapes and images deliver a context that when placed within an overarching design - a moodscape is created.
Building a personalized landscape is a process - you'll want to make sure you know what questions to ask, how to find the best company to help you, and more. To help you have your dream landscape in 2015, we've rounded up the top personalized landscape resources of 2014.
Benefits of Personalized Landscape
Thinking of redesigning your yard and still not sure whether a personalized landscape is right for you? Here's some resources to help get a better understanding of what a personalized landscape is and the benefits it provides:
Kid-Friendly Backyard Design
Creating a backyard oasis that is friendly for all ages can seem a bit daunting at first. Follow the tips and tricks in these resources to help get started:
Woodland Gardens
If you have large trees or unused wooded areas in your yard, consider a woodland garden, which has the benefit of being more natural and less manicured than more traditional gardens. Check out these resources for designing a relaxed atmosphere and a great, cool place to retreat to during the hot summer months:
Hiring a Professional Landscape Designer
Finding the right landscape company to design your personalized landscape isn't always easy. Here's our top resources for helping you connect with the right company:
We hope you find these resources helpful in discovering the power of personalized landscape design. If you're ready to make 2015 the year that you transform your backyard, we're here to help! Get started with a free landscape consultation.