Gardens can be time-consuming and difficult to manage, especially if you have a large plot of land at your disposal. One of the trends that is becoming more popular with people who have large trees or unused wooded areas in their yard is to start up a woodland garden, which has the benefit of being more natural and less manicured than more traditional gardens.
A lot of the plants used in a woodland garden are also easy to maintain, making the upkeep of the garden very simple and easy, perfect for people who are not too keen on intensive gardening. A woodland garden is the perfect garden for somebody who wants a relaxed atmosphere and a great, cool place to retreat to during the hot summer months.
Effective woodland gardens require a number of elements, and there are plenty of design aspects that can ensure that your garden is a sensory experience that will entertain you for years to come.
#1: Paths
One of the most essential features in a woodland garden is the path, since it's what will allow you to get a feeling of exploration while still maintaining a level of comfort in the garden. It'll also help prevent your visitors from getting lost. A couple of things to keep in mind when talking to your garden designer about path design include:
A circuit is a great way to generate a sense of discovery and exploration in your garden.

Stopping points are essential to allow people to appreciate the environment that they're in and take in the atmosphere of the woodland.

Interesting landmarks such as benches give the path a sense of purpose, and also help visitors orient themselves in the garden.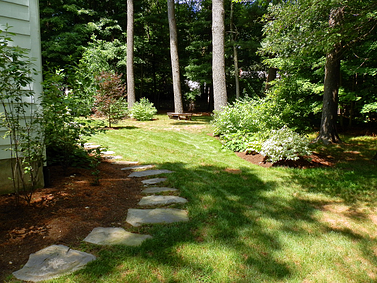 Paths can be made from a variety of materials, including stones, wood, sawdust or even simply packed dirt. Your choice will depend on the type of statement you want to make as well as how much maintenance you want to do.
#2: Natural Points of Interest
If you want to spend lots of time in your garden, you want to create spaces that you can spend time in, rather than simply taking a walk on a path. These points of interests can be composed of a number of natural or designed features.
A clearing is the ideal place for some rest and relaxation. It will provide a dramatic opening that allows sunlight into the garden, and is a focal point that draws attention.

A tree circle is a slightly less natural version of a clearing where trees form a circle to encompass a safe relaxing area that allows in sun and air. If you're considering outdoor dining, it can also be the ideal point for the dining table and even maybe a fire pit.

Water features can be natural or man-made and can make a great addition to any woodland garden. The sound of trickling water adds to the relaxing atmosphere, but be aware that any man-made water feature will require quite a bit of maintenance in the long run. Natural water features are cheaper to run, but you'll still have to make sure that it's properly buffered and that the water isn't stagnating.
#3: Designing Your Woodland Garden
While it's possible to design your woodland garden on your own, it's a very time-consuming and laborious task to undertake. There is plenty of research that needs to be done regarding indigenous plants that are suitable for a garden, making a design that is both natural and convenient to humans and it may be easier simply hiring a well-respected design and installation firm to design your ideal woodland garden.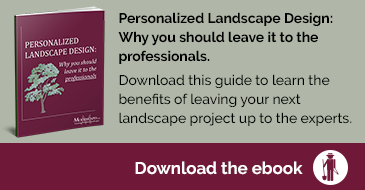 Photo: Customized woodland garden design designed and installed Needham, MA.