Check out what our clients say about Moodscapes
Carin Roberge, Watertown, MA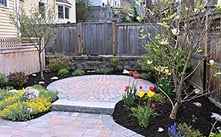 Judi worked with us closely over a year's period to imagine, design, and implement a major patio and garden installation in what was a previously undeveloped back yard. We particularly appreciated Judi's creativity and flexibility in helping us to think through both the big picture and the details of what we were intuitively wanting to create. She was willing to go through several iterations in the design with us to get it to exactly what we wanted.
We needed a garden with low-allergy plants and Judi collaborated with us closely in identifying and finding the right mix of perennials, shrubs, and trees. We love sitting within our backyard oasis. We highly recommend Judi and her landscaping team for both small and larger-scale projects.


Lori Harris, Medford, MA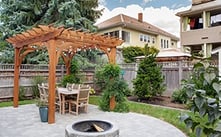 Judi and her team are wonderful to work with. We are very pleased and would recommend Moodscapes to everyone! Judi helped us design an exterior living area with patio, outdoor barbecue pit, and pergola, as well as design our garden area, lighting, and sprinkler system. Her team built a storage shed, and a very sturdy pergola that covers our outdoor dining area (wisteria vines are currently growing and winding around the pergola!).
The new lawn is organic and maintained without pesticide. Moodscapes continues to work with us toward getting the lawn to a place where we are satisfied. Our refurbished front and back yards are gorgeous, with many flowering plants, bushes and evergreens chosen through careful consultation with Judi. We are so happy with the outcome.


Bernard and Lisa Silverman, Needham, MA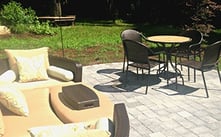 The work turned out magnificently. Our front stone entrance adds to & complements the look of our house as do the 2 patios in the back. The landscaping has grown & matured & looks great; so much improved over what had been when we bought the house. We use one patio for our grill & outdoor furniture where we enjoy over 3 seasons as we also have a fire pit.
On the other patio, we installed a hot tub which we enjoy year-round except for when we get 9 feet of snow! Judi is on-site & in constant communication which is reassuring & rare. We continue to use Moodscapes & her related companies' services for maintenance work. We unequivocally recommend Moodscapes to those planning both large & small projects.


Eric and Susan Hailman, Lexington, MA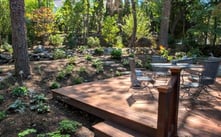 I would highly recommend Moodscapes for large landscaping projects. This was a huge project, and after a somewhat slow start in the planning phase, everything proceeded in an orderly way. Judi personally supervised and coordinated the work and was at the house every day to ensure things were moving ahead as planned. The craftsmanship of the subcontractors on the deck, wall, steps, walkways and driveway was outstanding. Judi selected plants that were a mix of native species and interesting cultivated varieties, with an eye to blending different leaf colors, staggering bloom times, and finding appropriate plants for the sun/shade conditions.
The finished product is lovely all around. The large, beautiful wood deck at the level of the back door makes for a wonderful outdoor living space, with views of the varied plant life, and entertainment provided by birds flitting through the trees. The sunny front yard features colorful foliage, flowers and berries, and is regularly visited by bees and butterflies. Overall, this was an impressive transformation!


Dave Halberstadt, Onset, MA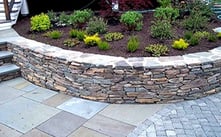 Judi and Moodscapes have been making our properties more livable and beautiful for close to 20 years. She designed and then maintained a beautiful landscape for our home in Belmont -- people would stop and ask who did the design of the landscape on our little corner lot. More recently, when we renovated our Summer cottage on the Cape for a year round residence 2 or 3 years ago, Judi used unique design and hardscape elements interwoven with native plants and shrubs to provide a landscape that complemented our seaside topography and worked seamlessly with the renovation design.
She made several suggestions which dramatically improved on the architect's concept for the location, and utilized porous and grassy paver driveway materials which worked beautifully, and along with a clever drainage plan, made the local conservation officer quite pleased. We can not more highly recommend Judi and Moodscapes and suggest you will find she is professional, listens well, and her seasoned Moodscapes crew make your ideas and dreams come to life.


Scott Campbell, Roslindale MA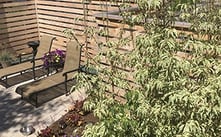 Judi transformed my pathetic little patch of dirt into a fragrant urban oasis that generates a lot of WOW, and she made the process fun, companionable and instructive. Definitely recommend: she's very thoughtful in her approach.


Jan Engleman, Malden MA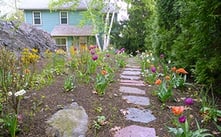 Judi Lipson-Rubin helped us turn a difficult yard into a varied and beautiful landscape that we love to come home to. Judi was able to see beyond the challenges of the hilly rock-strewn terrain to its many possibilities. Beyond that, she was able to pick up on our vision, even when we couldn't state it clearly, and to work with us to enhance and achieve that vision, rather than impose one of her own. Working with her was a true collaboration. Judi's crew did high-quality work which she readily stood behind.
We have had Moodscapes maintain our property in the several years since the work was completed, and continue to work with Judi to make improvements to the landscape. We couldn't be happier - with either the result or the process.
Bonnie Payne & Roger Tobin, Arlington MA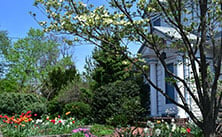 We have had Moodscapes take care of our large garden for 3 years now and we had them do a big renewal of the plantings last year. They are so conscientious, careful, polite and considerate, a joy to have around. Their maintenance work is professional, their plantings healthy, and their clean ups thorough. They do not overdo mulch, use only organic products, focus on native plants that will do well in our climate. They are very responsive to our comments and requests. I love that they rarely use leaf blowers and when they do, the blowers are very quiet.
The renewal of much of the garden last year required design work modeled after the original design, with removal of large old bushes, updated plantings, pruning, and clean up. It was such a pleasure to see Judi Lipson-Rubin's colorful designs, with background on all the plantings she suggested. As always, she responded to our preferences. The removal of old, overgrown bushes and the replanting was right on schedule, everyone working hard and efficiently. The crew coordinated with our sprinkler company to redesign the irrigation system so that all the new planting survived a hot month of August. They were done on time. While we were gone in August, they monitored the yard for us to adjust watering to keep everything thriving.
I would recommend this company to anyone considering design, installation or maintenance of their garden. We are so grateful to them for their work to create and maintain a lovely garden for us and the neighborhood to enjoy.
Theresa Kavanaugh, Lexington MA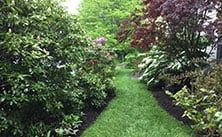 I have worked with Moodscapes for years, and love how they maintain our garden organically and with care- they are just as fussy about our plantings as we are. They are great with following through with our finicky requests to baby certain plantings (and aggressively prune others). It is always a pleasure to have the Moodscapes crew working in our yard!
Kristin & Tom Simon, Lexington, MA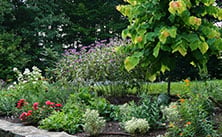 We've had a great experience using Moodscapes for our lawn care and our seasonal bed maintenance. We went through other landscape companies first before settling on Moodscapes. We've been impressed with the care they take with our property and their desire to develop a relationship with us rather than treating us as a transaction. We also take comfort in their organic approach and the fact that we don't have to compromise our kids safety in exchange for a beautiful property.