Choosing the right type of patio material is the hardest part of designing or redesigning a patio. Here is a quick summary of the most commonly used material for patio design and installation.
Outdoor Patio Materials can be divided into 4 basic categories:
1-
Brick

: best used in locations with some sunlight, it can become moss-covered if there is not enough sun; shades of red and brown make up a variety of brick color. Learn about the cost of a brick patio here.
2-
Concrete Pavers

: many variations in color, shape, and texture; moderately priced; add long-lasting value to a home with durability and easy maintenance. Learn about the cost of paver patio here.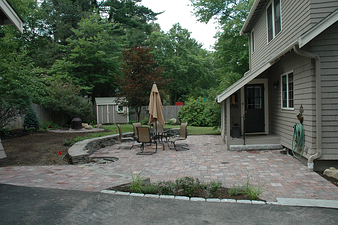 3-
Bluestone

: regular bluestone (left image) is easy installation because of the rectangular and square shapes whereas, irregular bluestone (right image) is harder to install due to the irregular shapes, both have surfaces with full spectrum color, high cost material, long-lasting and durable. Learn about the cost of bluestone patios here.


4-
Fieldstone

: natural appearance with lots of texture, great material for informal patio, also looks nice with some moss, less expensive material, harder to install due to irregular shapes and thicknesses. Learn about the price of a field stone patio.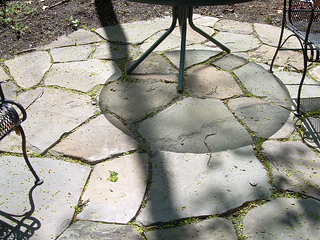 The beauty of outdoor patio design lies beyond the type of stone chosen, but also depends on surrounding plants, shrubs, and garden beds. Make sure to understand your existing site conditions beforechoosing a patio material.

Download the above guide for free to better understand the landscape design process.