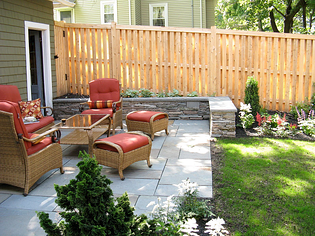 One of my favorite aspects of living in New England is being able to watch the seasons change and plants adapt with seasonal interest. Most plants have one or two seasons of which they bloom or have bright foliage, very few are considered all season interest plants. Evergreen shrubs are one of the few plants put into this category of having all season interest.
My all time favorite evergreen shrub is the Dwarf Hinoki Cypress (Chamaecyparis Obtusa 'Nana Gracilis'). This particular shrub is the shrub version of the tree, Hinoki Cypress. It grows slowly to a height of about 6 feet tall with a spread of 3-4 feet and grows in zone 4-8. (Massachusetts and southern New England is 5-6). The Dwarf Hinoki Cypress is able to grow in sun to partial shade and needs almost zero pruning, making it a low maintenance plant.

This particular evergreen, the Dwarf Hinoki Cypress Nana Gracilis, features fan-like foliage and an irregularly globe-shaped, upright habit. The way the needles grow and form look like a web and have beautiful dark green color.
Their web-like needles are unique to this species and is what makes them contrast a stone hardscape with elegance. This combination of evergreen shrub and stone creates what is referred to as an "Asian Landscape". This means that along side a smooth stone there is an evergreen, weeping shrub or boulder used as a focal point in the landscape. I love to install a regular blue stone patio that has been professionally designed to accompany a Dwarf Hinoki Cypress. This provides a clean look next to the softness the evergreen shrub has.
The perfect combination~ regular blue with a Dwarf Hinoki Cypress as focal point with smaller plants surrounding for extreme color contrast!