Welcome to our 3rd and final blog of the Landscape Problems & Solutions series!
Part 3: Adding Curb Appeal to the Front Yard

Location: Belmont, Massachusetts
| | |
| --- | --- |
| Before | After |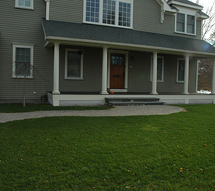 Problem: The client wanted to add curb appeal to their newly built home. The contractor who built the house wasn't thinking about landscape curb appeal when they created the walkway and front porch. The newly installed lawn was green and thriving, but it needed new plantings to add color, texture and height to the front yard, as well as privacy for the porch.
Solution: Our approach was to reshape. We took the shape of the walkway going to the front steps and cut the garden beds in order to mimic and embellish the curvy shape. Changing the shape of the garden bed softens the front yard with more curves and less sharp angles. This also breaks up the structural feel of the farmers porch.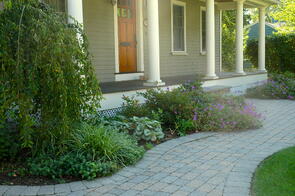 We anchored the plantings by adding a beautiful ornamental Stewartia tree on the right to set off the cherry tree which was on the left. The stewartia contrasts with the cherry tree in its height and shape as well as bloom time. It also has winter interest with exfoliating bark and camellia like white flowers in July. The taller corner plantings add privacy to the porch as well as softens the sharp angles found in the existing landscape.

Due to the lack of sun in the front yard we had to select plants according to light requirements. We were able to add a Mountain Laurel, an evergreen shrub, which blooms in late May, early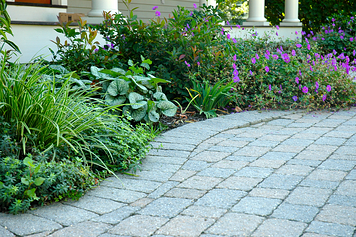 June. For symmetry we also included two Daphne Carol Mackie shrubs that bloom twice a year, adding lots of color and fragrance. Also added was an Itea which flowers in June and has wonderful fall color in September. In addition to trees and shrubs, various perennials were added throughout the garden beds for continuous color and seasonal interest.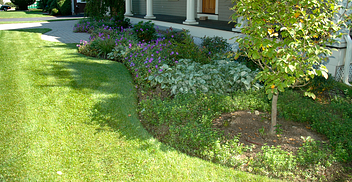 We were able to create front yard curb appeal with a low maintenance and simple, sustainable planting plan that will grow throughout time with the home.