Welcome to our 2nd blog series on Choosing Paving Materials- Understanding How Much Patio Materials Cost.
The 1st part of the series is on BRICK! Before choosing the type of patio matieral you will use, it is essential to understand the pros, cons and maintenance required for it.
Pros

A variety of different shades of red brick are easily available for all. Most brick is made from clay and is easy to install for both patios and walkways. Brick creates a very organized, structural and old world look in a backyard. There are an endless varierty of patterns and designs to choose from.

Cons

Only one size available (8 x 4 x 2.5) and it is almost impossible to match older red bricks.

Maintenance

Once installed, there is practically no maintenace necessary. Over time a few bricks may need to be reset depending on the condition of the soil installed on. Some clients prefer powerwashing every few years to clean the brick and restore its original look.

Best Used For

Price


The traditional style of the red brick enhances a colonial style home. The solid red of the brick contrasts well with garden greens.

It is $10-$15 per square foot for install, depending on quality of brick material used and the job site.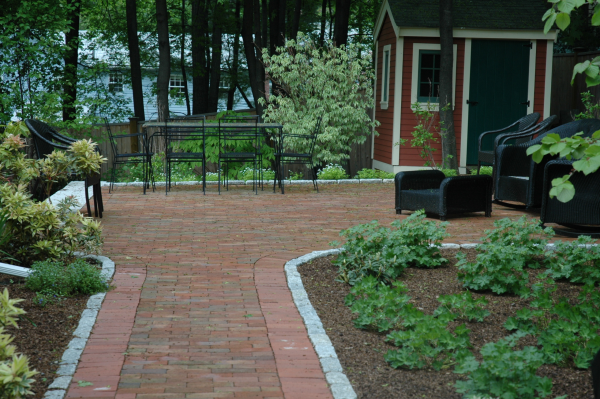 This is a brick patio we installed in Winchester, Massachusetts for a client who was looking for an traditional walkway and patio for their backyard entertaining area.
Interested in a brick patio? Before contacting a professional landscape designer to discuss your ideas, take a look at our Top 10 Consultation Questions to better understand your wants and needs.