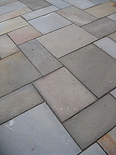 This is part 2 of the Patio Material blog series- Understanding the Cost of Bluestone Patios.
Pros

Bluestone is a good material for the North East cold weather because it is made from layered sandstone which is very strong. It comes from Northeast PA, NJ and NY. It can be blue but also has other colors or hues running through it. It is a beautiful patio stone and adds elegance to any yard.

Regular bluestone is cut in squares and rectangles, making it easier to lay. Irregular bluestone takes longer to lay, but has more informality and texture.

Cons

It is a pricier material than pavers or brick and can be more difficult to use if there are different thicknesses being used.

Maintenance

Bluestone needs little maintenance. Do not use salt to remove ice as it will crumble. It does fade over time so if that is bothersome you can lightly power-wash it.

Best Used For

Bluestone is versatile and is best used as patios, walkways, stair treads, landings AND walkways. It is a wonderful patio material because it is a stable floor for furniture. If set in sand or stone dust, it will drain easily.

Price

Every job site is different, but on average costs are:

Regular: $20-$25 per square foot installed

Irregular: $25- $35 per square foot installed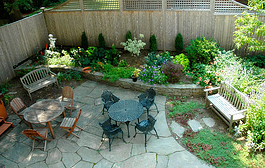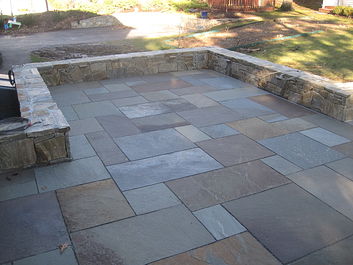 Irregular bluestone patio installed in Arlington, MA.
Regular bluestone patio installed in Ashland, MA.
Interested in a brick patio? Before contacting a professional landscape designer to discuss your ideas, take a look at our Top 10 Consultation Questions to better understand your wants and needs.