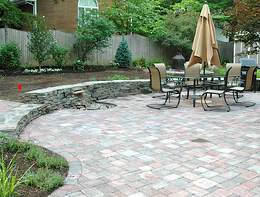 A patio is an investment not only in the value and outdoor appeal of a home, but also an investment in the quality of life for the homeowners that live there. A quality outdoor patio material and of the right size provides the perfect environment for kids to play, entertainment area for your friends, or just to kick back and unwind at the end of a long day.

One of the many considerations that goes into a new outdoor patio is simply "how big should it be?". If a patio is built too small it will feel crowded by the time the furniture, grills and planters are put on it. If it's too big, you'll lose that intimate feel that patios can provide. Feel free to use these ideas when deciding on just how big of a patio space you or your family may need. 


What's it going to get used for?


Is your patio mostly going to be used for quiet relaxing evenings or do you like to host parties? Think about how many people you plan on regularly using it to accommodate, and assign space appropriately. Are you going to want something special on it like a fire pit, or hammock? Again, think ahead to the materials you're going to put on the patio when you're considering the size. 

There's nothing worse than ending up with an outdoor patio that's not of the right materials or the right size to fit your lifestyle. Think about using the expertise that a landscape design professional has to offer when deciding on your new patio size.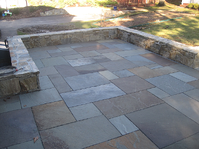 Do a Test Run!


Go ahead and get the furniture you want to use on your patio and set it up in the area you plan on using. Arrange it in a way that makes sense to you, and then simply use the space as if it were patio for a couple of weeks. Take note of how the space feels, and keep adjusting the arrangement until you find something that feels right for you and your family. Does it still feel intimate and relaxing while keeping enough room to move around comfortably? Once you've given your area a test run you know how large of a patio you'll need. Be sure to add in a few feet around the outside for the edge of the patio since it won't just stop after the furniture.

Download our design process guide to better under the process of hiring a professional landscape designer.