Clients in Roslindale, Massachusetts had very specific ideas for how they wanted their backyard sitting room to be designed and installed. Our designer worked closely with them to infuse her expertise into their desires.

1. GOALS AND MATERIAL- Clients wanted a fairly sophisticated and formal outdoor entertainment space that would extend their house and add outdoor living space. They wanted it to be formal, but provoke their senses at the same time. We added a water feature, various fragrant plants, and outdoor lighting surrounding the patio to allow nighttime enjoyment. The patio material was a carefully selected, formal blue stone, which created a structured layout. The nooks and sitting wall were added for additional space and enjoyment.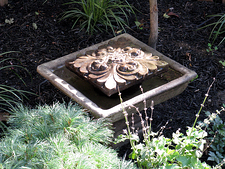 2. PLANTS- Plants were carefully chosen according to their textures and subtlety of the blooms' colors and smells to enhance the formality of the space. The plants soften some of the space by adding lighter color, but there is still a lot of structure in the plantings as well as the hardscape. We kept it simple.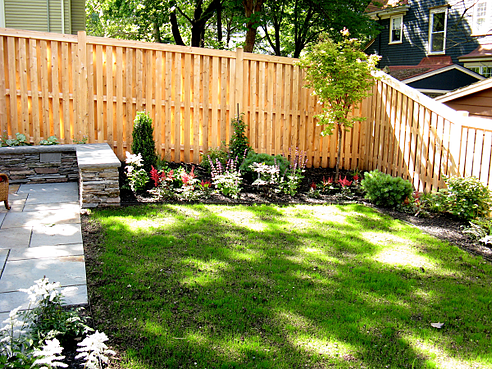 3. COMPLIMENTED THE EXISTING CONDITIONS- The design mimicked vertical lines found throughout the yard as a whole. The fence gate especially mimics the railings coming off the steps. There are also a lot of square and vertical lines, which creates the complete formal setting they wanted for entertainment and privacy.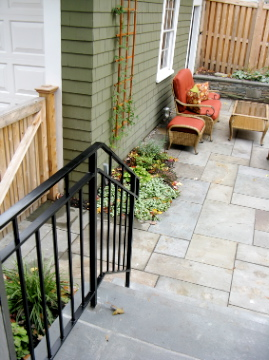 Personalized landscape designs allow for low-maintenance, sustainable landscapes. If you live in eastern Massachusetts, please contact Moodscapes.