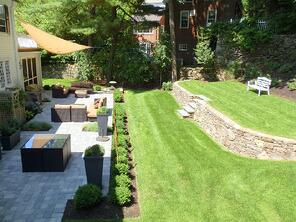 Each client we work with presents new challenges and unique experiences. Our mission remains the same: create inspirational and harmonious landscapes by infusing the client's practical needs and aesthetic desires within the existing nature of the landscape.
This is the story of one client's personalized landscape design. British homeowners wanted a formal feel in their front and backyard and they hired Moodscapes, which has more of natural style of landscape. Working together we were able to integrate a structure landscape that was elegant but also had warmth with a natural flare to it.
Personalized Landscape Design Process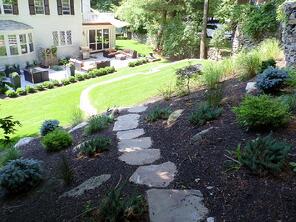 As part of their design, we transformed both the back and front yard. In the front yard, plants complimented each with other by softening the hard structured plants. The backyard was created to accommodate outdoor entertainment, which can be used formally or informally. The lawn terrace is very English - We turned an unusable slope into a garden bed with boulders, conifers, grasses, giving it an Asian flare while still using some of their existing plants and making an informal garden looking down into the formal entertainment area.
The garden area is also a focal point from the bottom patio and has inviting stepping stones throughout. Lighting was installed throughout the entire property so it is usable in the night. It is a true fairy tale of formal meeting informal and creating something beautiful.
Reasons To Choose Personalized Landscape Designers
Throughout the entire consultation process, we work hard to comprehend impactful senses and types of environments our clients desire most. Some of the required skills include:
Creative Originality - Any landscape or garden project can seem overwhelming. Professional
designers are able to address each issue as it arises to create a sustainable plan that will
enhance your yard as well as directly address each of your concerns.
Superior Communication - A great designer will be there to help you communicate your priorities, vision, wants and needs - as well as to help establish and manage a budget. It is essential for the relationship between a designer and every client to be completely transparent.
Total Comprehension - An effective, efficient site analysis allows the designer to understand your current landscape conditions. Soil test results are also used to implement the most sustainable solution and plan for your yard. Comprehension also includes understanding the different terminology used to describe and install both the plants and the materials chosen.
Complete Cost Effectiveness
At Moodscapes Design, we thoroughly study and analyze the existing conditions of your home and yard. Our professionals are able to understand the sun-drenched or shade-covered areas while minimizing various costs like water. We use focused knowledge to attain full sustainability for your personalized landscape design as well as your budget.