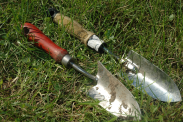 Anyone who has installed an impressive landscape of any size knows how much work it can be to keep it up properly. The fact of the matter is that few of us have enough time to get the work done and then have time to enjoy it with family and friends. Landscape maintenance involves much more than simply mowing the lawn on Saturday morning. To compound the situation, anyone migrating from a chemical to organic program will have a steep learning curve. Luckily, professional landscape maintenance services are available to come to the rescue. So, what services are available?
Converting to or Maintaining an Organic Program
Most people today are well aware of the organic movement, not just in food consumption, but also in vegetable gardens and landscapes. Organic methods are not only safer but they are also more efficient and productive. The good news is that previously non-organic programs can easily be converted to organic. It's not an overnight conversion, but a company offering knowledgeable landscape maintenance services can get you there safely.
This service works well in any situation, whether it be a healing garden, a herb garden, or an aesthetically-pleasing presentation comprised of native plants, walking paths, and water features. Some of the highlights of an organic program include:
Applying beneficial nematodes. These nematodes control a variety of harmful insects. For example, if you have pets, beneficial nematodes will keep fleas out of your yard without applying toxins to the yard or the animal.
Applying the proper soil amendments. Many organic amendments are available to improve the health of your soil. Horticultural dry molasses is a great example. It can be broadcast to stimulate microbes in your soil.
Soil Evaluation and Treatment
Even within neighborhoods and subdivisions, the soil make-up and characteristics can vary between neighbors. This is especially true if developers trucked in fill dirt during construction. A landscape maintenance services contractor will first evaluate your soil. This will give you a acidity/alkalinity number and a nutrient analysis.
With these results, your landscape maintenance services contractor can compare them to the types of plants that you have or desire to have in your landscape and make the needed changes. Keep in mind that within one landscape, different areas may have different requirements.
Scheduled Lawn Maintenance
Around your property, it is likely that your grass lawn is the linking factor between all other components. As such, periodic attention is required. The frequency in Eastern Massachusetts really depends on the season. The bottom line is that you want your landscaping to look its best 24/7. Your local landscaping contractor knows what you need and can put your maintenance on autopilot, reducing demand on your attention.
These services include mowing on schedule to maintain a consistent height, organic fertilization determined according to a seasonal schedule, and lawn aeration. What is lawn aeration? It is simply a way to combat soil compaction. This compaction is an especially critical issue with programs that are not organic because of the absence of earthworms.
Your soil needs to be aerated so that the moisture and nutrients can reach roots. Yes, to some extent aeration can be accomplished with "aerator sandals" but this is really not very efficient. Your local landscape maintenance services provider can provide this service far more effectively.
Conclusion
These are just a few of the services that your local provider can provide for you. Homeowners that are hard-pressed to factor in work, chores, and other obligations that want to maximize their down-time for relaxation and entertaining would do well to hand landscape maintenance services over to your local professional.