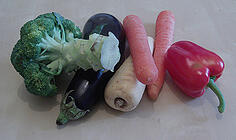 Many people think to have an edible garden (a garden with fruit and vegetable plants), it has to be in a large, fenced in section of their backyard. This is not only false, but far from the truth.
Three common misconceptions *proven wrong* about edible gardens:
1. You need a large yard with a section dedicated to your vegetable garden.
Many professionals are designing edible gardens that are integrated into a "regular" landscapes as well as creating small edible gardens. Using a structure such as an arbor or trellis for a vegetable vine to grow along can be put in any spot (with appropriate conditions) of the yard. The below image is an example of a customized garden design including fruits and vegetables integrated into their landscape. It has an arbor for grape vines in the back yard next to a patio, along with highbush blueberries along the fence mixed in with ornamental plants. Along the side of the house, there are rhubarb shrubs and many raised garden beds with different type of fruit and vegetables in them. This is a beautifully landscape yard that has both ornamentals and edibles.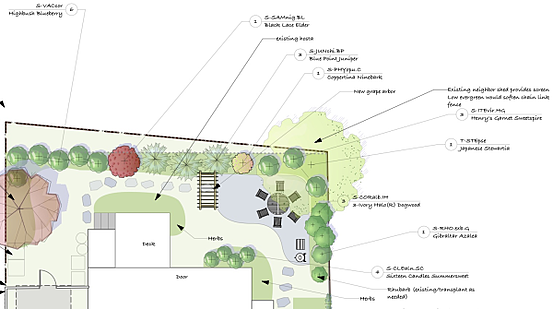 2. There is no way to have an edible garden while living in an urban area.
Similar to the first misconception of needing a large part of your yard dedicated to a vegetable garden, you don't need that much space for an edible garden. You can grow almost any vegetable or herb in a container. Tomatoes, cucumbers and peas are commonly grown in containers and up trellises. There are now apples, peaches and other fruits that can grow on balcony container gardens or on the corner of a patio.
3. Edible gardens have no seasonal interest.
Thankfully, this misconception is also not true. Not only can you integrate fruits and vegetables into an ornamental design with evergreens and other deciduous plants, but many edible plants have seasonal interest themselves. The best type of edible garden is one that is correctly paired and integrated with your native shrubs and perennials.


Make your landscape a little more productive by adding an edible landscape. Ornamental gardens are great, but there is something so wonderful about picking fresh, delicious edible food from your very own plants. Having your landscape produce for you is a beautiful thing.

*Remember to always do a SOIL TEST before planning or planting edibles in your yard.*