Learn about 3 of the most common customizable characteristics of patios while deciding what you are looking for in your yard. Professional landscape designers are trained professionals to help you get the most out of your space and money, but it is important for you to understand how they can custom design a patio for your home.
1. Size and shape: A patio can be any shape you want. Circular, rectangular, square, L-shaped, etc. but the important factor about shape is knowing the size you want it to be. The size is mainly determined by the space in your yard and desired function.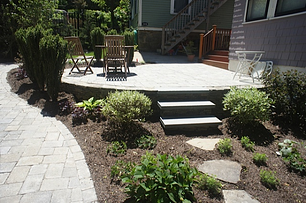 The customized patio design to the left was done so the client would have room to fit a small table and chairs while keeping the center clear since they used it to enter the house. The patio could not be too big because there had to be enough room to fit a privacy screening and a walkway for the neighbors to get to their door as well. The custom patio design allowed all of needs to be met within the same amount of given space.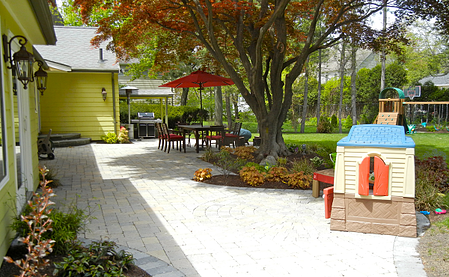 This patio is a customized shape in order to work around the existing tree and door structures of the house. With multiple exits to the back yard, clients wanted to access the patio from every door while having separate but connected areas for playing, grilling and eating.
2. Function: Professional landscape designers can customize your patio according to how you want and need to use it. Custom patio designs can include built in fire pits, outdoor kitchens, sitting walls, and even space for a garden bed.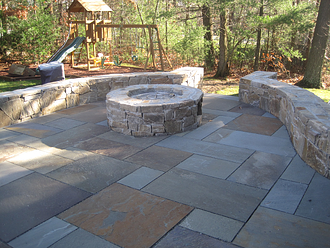 This customized patio design includes a regular bluestone patio with a field stone sitting wall and fire pit. Our clients wanted to extend their living space to the outdoors and this patio design allows them to enjoy their backyard all year round.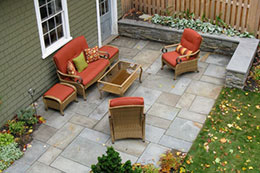 Roslindale, Massachusetts residents wanted to have a backyard garden room with a bluestone patio large enough for an outdoor furniture set as well as additional seating built into the patio. We designed a sitting wall along the back side of the patio and around the corner to add more seating.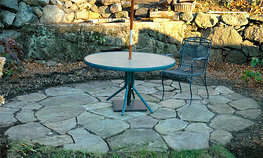 A small round field stone patio was designed to fit in the back corner of this large property. This custom patio design completed the backyard entertainment area with a remote reading or dining nook.
3. Material: Patios are most commonly constructed with bluestone, concrete pavers, field stone, brick and pea stone. It is important to understand the pros and cons of the different types of materials.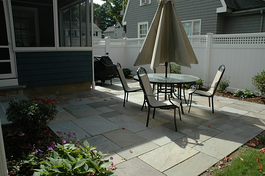 A patio with regular bluestone (photo on left) has a very clean, sophisticated look.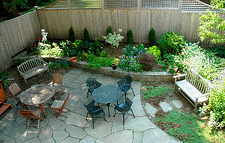 Irregular bluestone (photo on right) is another option and it slightly more natural looking and allows for space between the stones.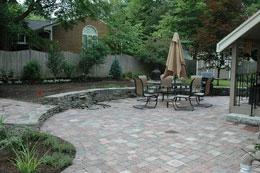 Concrete pavers come in many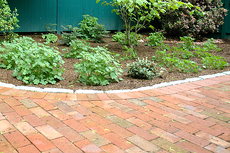 different colors and hues and can be laid out in various patterns in order to personalize the patio to match the surrounding landscape.
The field stone patio photo (scroll up to section 2) shows a small table situated on it for reading or eating, which is only possible with flat field stone. Field stone is a very natural looking material and is great for creating a patio within nature. Pea gravel is yet another natural looking patio material and you can find a photo of a custom pea gravel patio design we designed and installed.
In conclusion, when you begin to think about having a patio added to your landscape, remember that they come in all shapes and sizes. This increases the importance of a custom patio design plan to be done for each homeowner and landscape in order to insure proper sustainability and functionality.