More information on Patio Materials! The least expensive patio material to buy and install is pea gravel, also know as pea stone.
| | |
| --- | --- |
| Pros | Basic pea gravel comes in a variety of sizes, the most common being 3/4" and 1/8". It comes in an all gray or blueish color or you can order a yellowish mixtures. Stones can be mixed together for more of a variety. It is less expensive than other patio material options. It is also good for straight or curvy walkways and compliments cobbles well. The most common reason people request pea gravel patios is that it is more fluid and has a more informal or old world look. |
| Cons | Pea gravel needs more maintenance than other patios. It is difficult to shovel snow off. |
| Maintenance | It requires frequent raking and leveling since the loose material scatters and becomes uneven. |
| Best Used For | Small garden patios and paths that are set in a woodland area. Similar to field stone patios, pea gravel adds a natural look and feel to any backyard. |
| Price | On averages costs range from $6.00- $10.00 per square foot installed, but every job site is different. |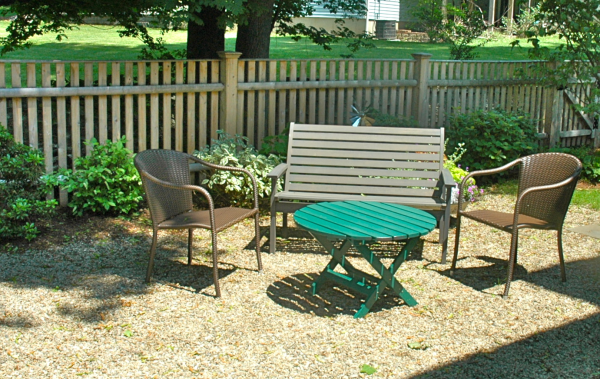 Pea gravel patios are wonderful for informal backyard sitting areas! This landscape design project was completed in Winchester, Massachusetts.
Are pea gravel patios best for you? Download our guide to find out!