PATIO MATERIALS- concrete PAVERS!
Concrete pavers are a man made manufactured paving product. They are made from Portland cement, sand, water, colored iron oxide and special aggregates.
PROS

Variety of style, color, texture, and shape allow you to create your own unique paver designs. The array of styles fit many types of landscapes from an old world to contemporary look. The variety of sizes blend well to any size patio design.

Larger sizes combine well for larger patios while a combination of the smaller sizes add texture and depth to a smaller patio. The paver patio can be combined with sitting walls of fieldstone, granite, veneer, or interlocking concrete blocks.

Concrete pavers are stronger than poured concrete and therefore will last longer and require less maintenance. When compared to natural stone and clay brick they are much more cost effective.

They are easier to install so you could do it yourself if you wish. They are set on an aggregate and stone dust or sand base so they drain well. They are durable and can handle the winter well.

CONS

Concrete pavers can be hot on your feet in the summer time so you would not want to use them around a pool or go barefoot on your patio. Since they are man made they do not fit a natural or woodland setting.

They are more expensive than poured concrete. If they are not installed correctly they might settle and be uneven. In order to prevent weeds from growing, clients often prefer to lay a weed mat before installation and add polysand after installation.

MAINTENANCE

If installed properly they need very little maintenance. If pavers are stained or damaged they can be replaced easily. They are easily removed and replaced. As long as you use a weed mat or a poly sand you will have few weeds. Otherwise you will need to use a sharp weeding tool to slip in the joints to pull up the weeds. Some people spray with an herbicide. Moodscapes does not recommend this, as we believe in an organic approach. For the most part sweeping or hosing the patio regularly takes care of everything.

BEST USED FOR

Paver designs are best used for patios, walkways, pool decking, and driveways.

PRICE

If installed by a contractor the costs range from $14 to $18/per sq foot. Always remember that every job site is different.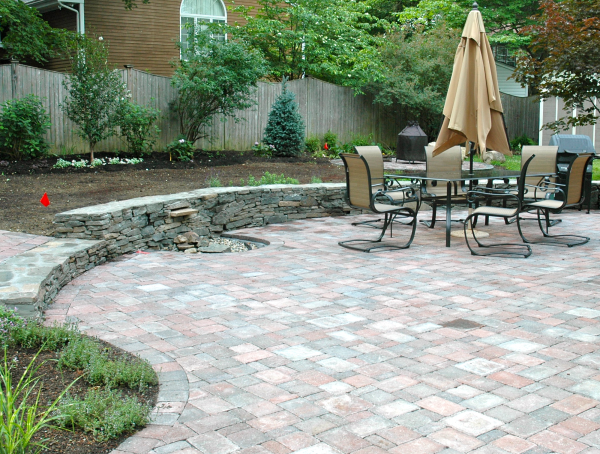 Mix blend paver patio design installed in Winchester, MA. The gray pavers in the patio compliment the newly installed field stone wall.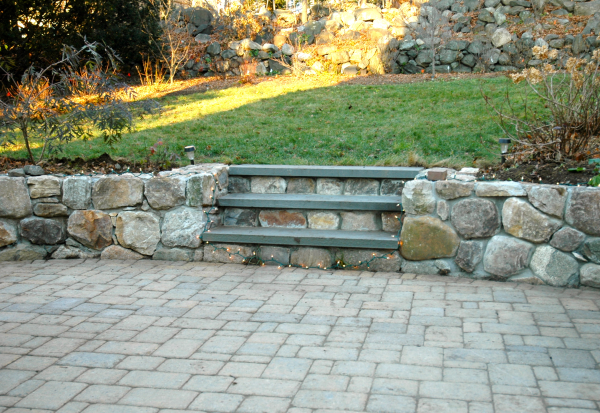 Vineyard blend paver designs look elegant and formal, especially when paired with a round field stone wall. We designed and installed wall and backyard patio in Lexington, MA.

Is a paver patio the best patio material for your yard? Use our free guide to find out!