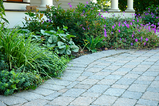 Every home, landscape, and family is different. When deciding to redesign your landscape, choose a landscape design company that will create a personalized landscape design and installation to work within your existing yard conditions, as well as meet your personal and aesthetic desires.
So, what exactly is a personal landscape? Great question! In brief it means communication, working within existing conditions, and creating aesthetically pleasing landscapes.
Let's dive into these 3 key factors that make up a personal landscape.
1. Communication- is the key factor to customer satisfaction, and yet it is often overlooked by many professionals. Throughout the entire design process, from the first consultation to the final design approval, communication between the clients and designer is most important to ensure the final design is exactly what the client wants and feels good about. It is amazing how many clients we have met with that have a plan that they cannot use because they didn't like it. If communication is open and honest this should never happen.
During the initial consultation, a detailed walk around the property is completed in order to see and understand the current conditions. A specific conversation of the client's wish list is discussed in order for the designer to see and understand the needs, desires, and functional conditions of the property. During the design phase, the clients view printed plans for approval until completely satisfied. Hardscape materials and plants are carefully selected according to the client's preferences.
Once the design is approved, the installation is done with the client approving and having a clear understanding of each step of the project. Meetings and check-in points are built into the installation schedule.
2. Existing Conditions- This is second important factor for creating personalized landscape designs. As stated before, each yard is different; composed of different soil types, light exposure, native animals, insects, etc. A personal landscape is a sustainable and low-maintenance plan that is designed to thrive in one, very specific yard. When discussing plants and hardscape materials, it is very important to focus on the current conditions of the yard. If these conditions are overlooked, you will end up with a landscape that is unable to survive without the constant input of fertilizers, and many other expensive amendments.
3. Unique Aesthetics- This is something extra that we give to all of our clients. We believe that by selecting the right materials and plants according to their texture, color, scent, and taste, a landscape can transform to a healing garden and therapeutic place for the client to relax and unwind. Throughout the entire process, we work hard to understand what senses and type of environment our client enjoys most and would appreciate in their yard throughout the year.
There are many landscape design and build companies to choose from when deciding to make a change in your landscape. If you are looking for a personalized landscape design, please contact Moodscapes today to see if we will be a good fit for you.
Moodscapes LLC is an organic landscape design and service company with a focus on helping you extend your life outdoors to enjoy activities on your own, as a family and with friends. We create opportunities for you to commune with and find joy and peace in nature and to live in an ecologically friendly and healthy environment. Please explore our landscape services and the portfolio that demonstrates many examples of our work.