When looking to achieve a balanced, peaceful yard, remember that hardscaping is just as important as natural features. These man-made components, such as walkways, patios, and divider walls, are an important part of the perfect outdoor living space. Hardscape elements can add a great complement to your organic space, but creating them comes with a whole different set of concerns than building a vegetable garden or flower bed.

Here are the top four elements to consider before you commit to a hardscaping project: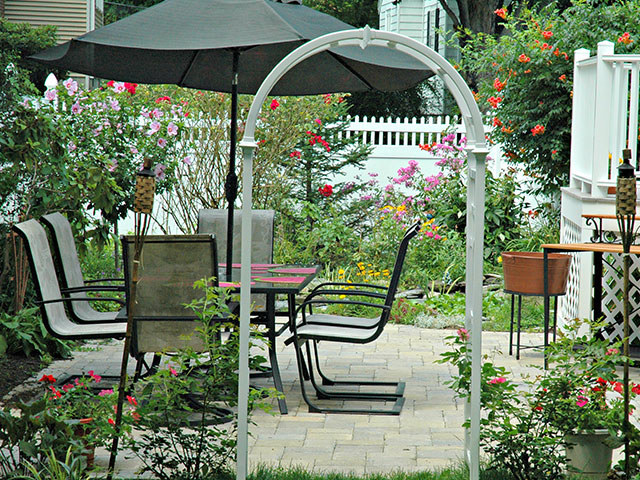 Build a foundation before setting stone
You almost want to view your hardscaping as a construction project - and as with all other construction projects, establishing a solid foundation for your hardscaping is key for making it sturdy and long-lasting. Creating a spectacular walkway or patio requires more work than laying stone and calling it finished. Time needs to be set aside to level the ground and lay in foundations such as aggregate stone, stone dust, or gravel to create a solid base for your hardscape project.
Consider different types of stone
Deciding on the type of stone to use in your hardscaping project is much more involved than simply making a trip to your local garden center and picking a set of beautiful pavers. There will be stone that you think looks fantastic, but is out of your budget, or may not quite fit in the space you're planning. On the other hand, a stone that you don't enjoy as much aesthetically could be well within your budget and match the required functionality perfectly.

A few common types of stone to consider for your hardscape include:
Peastone - This versatile stone, also known as pea gravel, is often used in commercial settings, but for the homeowner it is easy on the budget. Peastone is around an eighth of an inch in size and smooth in texture, so setting a solid foundation of compacted soil and stone dust and surrounding the area with a steel edge is important for keeping it in place.
Bluestone - A type of stone native to the northwestern United States, bluestone comes in multiple colors ranging from blue to gray to green. Shapes can vary from a straight-edge square to irregular pieces similar to fieldstone. Bluestone can be set on a sand foundation and provides a nice flat surface for patio furniture.
Brick - A clay paving stone that is used in a variety of structural and hardscape projects around the world, brick is long-lasting and easy to install. The natural and traditional look that brick provides makes it a favorite among both landscaping companies and DIYers.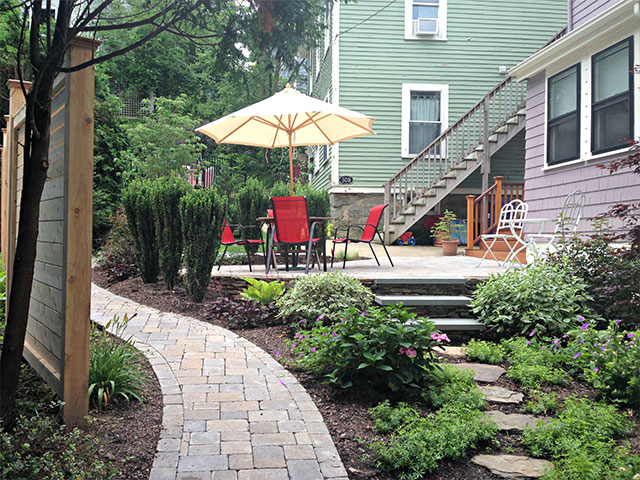 Choose location based on required functionality of the space

Before deciding where to build your next hardscaping project, first determine exactly what the space will be used for. Consider how easily accessible it will be and how close or far away you want to place it from your home for functionality. For example, if you want to be able to transport food back and forth from outside during a barbecue, build a patio close to the kitchen.

Also, how large will your hardscape space be in comparison to the size of your yard? Trees, kids' play equipment, and space for pets are all important things to contemplate when planning your hardscaping project.
Determine the shape of the hardscape area
Take time to mull over the shape of the area where you plan on building a hardscape. Will you want a square patio to entertain on or a rounded sitting area to relax in? These considerations are crucial when creating your budget. It may be necessary to cut or split stone for a rounded patio, bench, or fountain, which can be costly. Keep your expectations realistic when beginning your hardscaping project for a successful finish.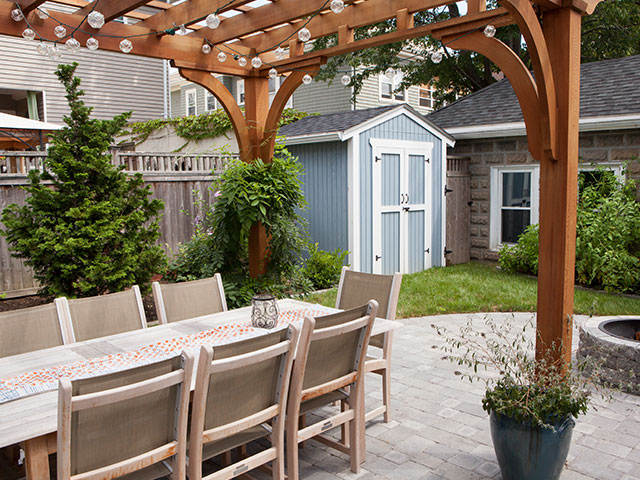 Plan your hardscaping project with landscape design specialists before starting
Once you've followed through on elements to plan your next hardscaping project, you will be well on your way to adding a functional space and pleasing contrast to nature in your outdoor space. If you need help deciding on your next hardscaping project, contact the experts at Moodscapes for assistance today.
Moodscapes LLC is an organic landscape design and service company with a focus on helping you extend your life outdoors to enjoy activities on your own, as a family and with friends. We create opportunities for you to commune with and find joy and peace in nature and to live in an ecologically friendly and healthy environment. Please explore our landscape services and the portfolio that demonstrates many examples of our work.