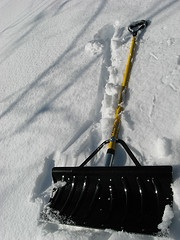 Being from New England I have seen many snow and ice storms come through. It's important to keep in mind both personal and public safety with winter weather. State workers and highway departments take care of snow removal and sanding/salting for all public roads, but most sidewalks, walkways and driveways are the property owners' responsibility.

Regarding your own personal sidewalk, walkway and driveway there are two routes you can go: do it yourself or hire a professional.

No matter which route you choose to go, it is extremely important to be aware of the different types of sand and salt that can be used. When thinking about ice melts, please understand that they are made up of corrosive materials in order to do their job. The thing about corrosive materials is that if misused it can permanently damage that beautiful new blue stone patio and walkway you put in last summer. Do not panic though! There are products out there that guarantee less damage to be done on hardscape materials like stone, pavers and brick. There are even products that are biodegradable and environmental safe! Plain rock salt and calcium chloride ice melts release a great amount of chlorides into the environment. When choosing a product, look for an environmentally friendly ice melt. This means it will release less chlorides into the environment.

If you choose to do your own snow removal, make sure to research which ice melt will best suit your environment. If you hire a company, before signing any contracts make sure you are aware of what they plan on using. Moodscapes does this type of work, if you live in or around Arlington, MA feel free to contact us for a snow removal quote!

Below is a list of ice melts and de-icers that I have researched and found to be less damaging and gentler on hardscape material as well as the surrounding environment.
Please contact us if you have any questions!
Moodscapes LLC is an organic landscape design and service company with a focus on helping you extend your life outdoors to enjoy activities on your own, as a family and with friends. We create opportunities for you to commune with and find joy and peace in nature and to live in an ecologically friendly and healthy environment. Please explore our landscape services and the portfolio that demonstrates many examples of our work.