The timing of your garden is much more complex than simply thinking about planting, growing, and harvesting seasons. You must also think about the lifecycle of the plants in your yard. With a bit of planning and foresight, you can create spaces in your yard that are welcoming, relaxing, and colorful all year.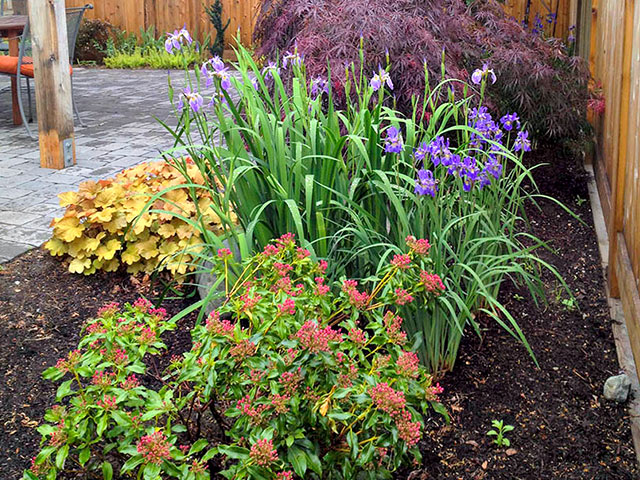 Staggering Bloom Times
The key to a lively garden with beautiful flowers in it all year is planting flowers and shrubs that bloom at all different times of the year. You can use a combination of perennials, annuals, flowering shrubs, and even small trees to achieve this effect. If you are just starting out, the University of Massachusetts recommends sticking with 2 or 3 kinds of plants per bloom time, so you don't overwhelm yourself.
Here are a few common plants organized based on bloom time:
Early / spring bloomers (April through early June)
Crocus

Snowdrop

Daffodil

Lungwort is a perennial for shade

Witch hazel

Salvia (perennial)



Summer bloomers (late June through August)
Blue star Amsonia (perennial)

Iris

Asclepius tuberosa or butterfly weed (perennial)

Hydrangea bloom throughout the season starting in the summer.




Late bloomers (August through late September) through October or later
Butterfly bush

Clethra (also known as summersweet)

Garden mum




Check out the UMass website for a full list of bloom times, for both vegetables and perennials.
Consider More Than Just Bloom
While flowers may look great, many people need more than just aesthetics from their yards. For example, if you are attempting to create a relaxing meditation garden, you may also want plants to provide you with shade and enclosure. This helps enhance your connection with nature.
Not all plants that bloom together also provide a similar kind of shade or leaf growth. For example, daffodils and Mertensia bloom around the same time each year, but they look completely different.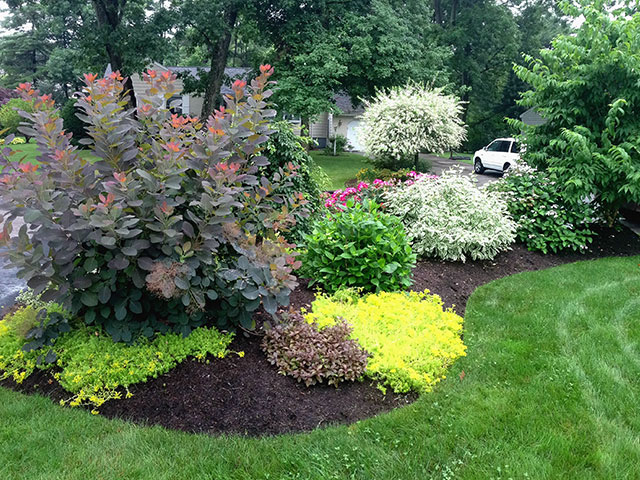 Coordinate Perennials
Since they grow back every season without requiring new planting, perennials give you the most "bang for your buck" for your effort in the garden. Additionally, perennials are available that bloom at all points of the year, meaning they can help provide flexibility for when you are planning the type of flowers and plants you want to have in your space.
One of our favorite perennials is Kim's Knee High, also known as Echinacea purpurea 'Magnus' or cone flower. It blooms with gorgeous, bright pink flowers. Bridal Veil False Spirea is another great choice that provides ornamental, fern-like foliage with plumes of flowers. Both of these perennials are relative hardy and native to Massachusetts. Kim's Knee High is also great for attracting birds and butterflies to your yard.
Make Your Garden Your Own
While bloom time is important when it comes time to plan and arrange your garden, it's just one factor. You also want to think about what type of environment you want to create in your outdoor space. Do you prefer bright, colorful flowers? Or would you rather have a tranquil yard with ample shade?
By picking the right bloom times, you can create a space that is truly your own. Contact the expert team at Moodscapes if you'd like to learn more about how to stagger your bloom times for success in designing your landscape.
Moodscapes LLC is an organic landscape design and service company with a focus on helping you extend your life outdoors to enjoy activities on your own, as a family and with friends. We create opportunities for you to commune with and find joy and peace in nature and to live in an ecologically friendly and healthy environment. Please explore our landscape services and the portfolio that demonstrates many examples of our work.