Gardens are a great option for creating an area that is both soothing and good for the environment. When landscaping, you need to consider your personal preference and the effect the plants you choose will have on the environment.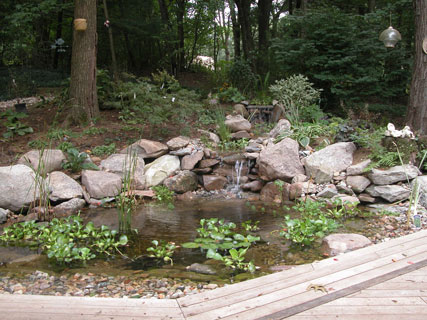 What parts of nature do you enjoy?
Think about the last time you went for a walk in the park or visited a botanical garden. Did you enjoy watching the bugs and the bees flit around the flowers? How about listening to the birds sing? Were there any flowers that you liked more than others?
Your answers will probably be different than your neighbor's, but people generally like the smell of flowers, the aesthetics of a well-designed space, and the chance to run their hand through grass. The fresh air itself can be healing, providing a sense of wholesomeness.
Being outside and enjoying your landscaping will help soothe and heal you. It doesn't matter if you take a minimalist approach and use a few shrubs to increase the privacy of your backyard, or you have a thick garden full of a variety of flowers. Simply create a space that you will enjoy.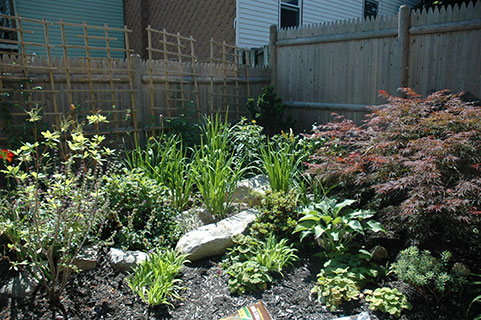 Texture your landscaping
You can texture your landscape by choosing a variety of plants that have different flower types and bloom times. With complementary bloom times, your garden will have color throughout the year. However, you want your garden to be orderly - so as you're designing the layout of your yard, be thoughtful and plan where you will place each plant.
Having plants that bloom throughout the spring, summer, and fall has the added advantage of encouraging biodiversity. By choosing the right flowers, you'll also be able to watch the birds and bugs dart through your shrubs. These are some great plants that are not only attractive but encourage biodiversity:
Gaillardia

Helenium

Helianthus

Penstemon

Primula

Rubus

Acer Rubrum

Acer Saccharum

Nepita

Quercus rubra

Kalmia Latifolia

Fothergilla
Use natural landscaping
It can be tempting to try to overrule nature. Instead, design your garden to complement the natural elements of your yard. You can do this by utilizing pre-existing rocks that are too big to move. Build your garden around these boulders to provide a sense of permanence or grounding. This approach allows you to take part in the outdoors in a way that heals. Seeing the movement of grasses and other plants through the wind and smelling flowers and soil relaxes and connects us to earth.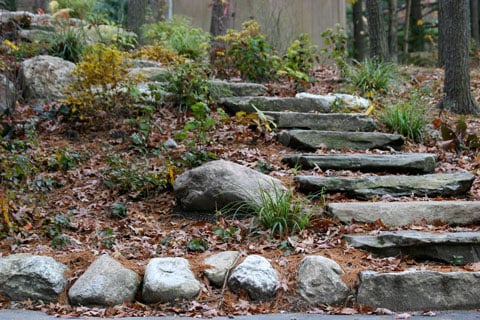 Stimulate your senses
Nature can be stimulating to all senses including hearing. Using a water feature or plants that move can help engage the sense of hearing and block out undesirable noises like a nearby road. These natural sounds have a lulling effect and will relax listeners.
This advice is good for those who want to relax or meditate after a long day. Specific plants can help with certain diseases. If you have questions about landscaping for a particular ailment, seek out someone who knows about your condition and can help you pick out plants that will help you heal.
Being in nature has a lot of reciprocal benefits, including emotional and even physical healing. By choosing plants that are good for the environment and create a relaxing ambiance, you will find that you have created an area that is both enjoyable and soothing. Moodscapes, LLC has 20 years of helping people create outdoor living spaces that provide healing and relaxation. If you're struggling to figure out the next step, call them today.
Moodscapes LLC is an organic landscape design and service company with a focus on helping you extend your life outdoors to enjoy activities on your own, as a family and with friends. We create opportunities for you to commune with and find joy and peace in nature and to live in an ecologically friendly and healthy environment. Please explore our landscape services and the portfolio that demonstrates many examples of our work.