Stones are a beautiful addition to any garden - they evoke a feeling of permanence and strength. By uniquely arranging rocks and boulders in your landscaping you can enjoy not only the aesthetic benefits but also the healing, grounding nature of rock's mountain-like properties.
Here are some interesting ways to incorporate stone hardscapes into your property: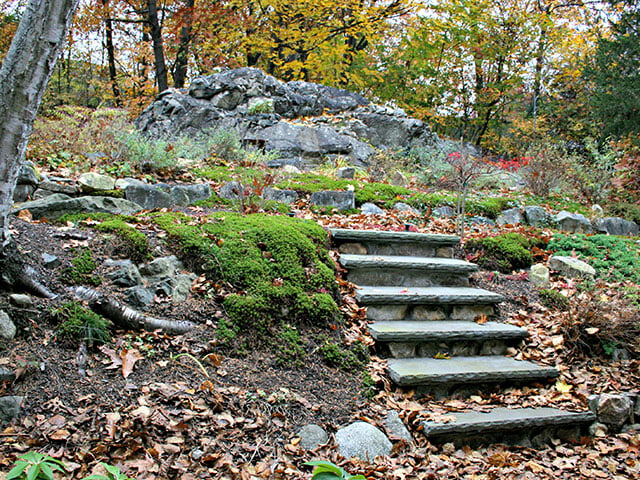 Create an artificial stream bed
These hardscapes add a beautiful accent to your garden or landscaping. By using a variety of sizes and shapes, you can emulate the look of a dry stream bed. You can also use this method as a practical way of controlling drainage. Using more homogenous stones makes for an attractive pathway for your yard.
Use rock walls to create a terraced garden
If you have a hilly yard, a terraced garden is a nice way to add a little texture. You can use complementary rocks to create beautiful walls and even add steps throughout your landscaping. From there you can plant native flora on each terrace to create a very pleasing ambiance that has an element of layering.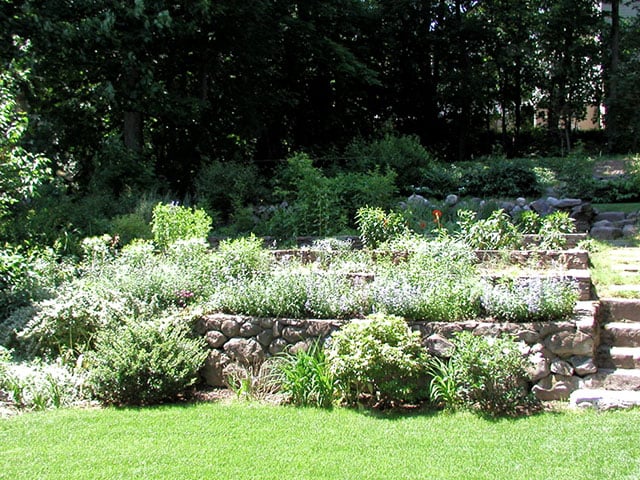 Use different kinds of rocks to complement each other in a pathway
To create a beautiful pathway, or even in a wall, use a wide variety of stone to complement each other. The convenience of using cement to create a walkway is tempting, but explore different types of stone like Goshen stones, field stones, blue stones, granite, or even newer blue mist granite, and you'll find more interesting types of stone for your yard. By using rocks, you can bring your style and tastes into your hardscaping, while keeping it natural for a soothing and healing effect.
Design a Japanese Zen Garden
We know a lot about the healing properties of stones from traditional Japanese Zen Garden practices. One of the most beautiful examples of a Zen garden in America is in Portland, Oregon. While you probably don't have room for a large garden like the one in Portland, you can adapt some of the traditional Zen practices into your landscaping including the use of unique rocks.
The stones in this type of gardening are used to symbolize the five elements. Sand or small pebbles are laid out in a pond-like shape. This area is used as a base level to symbolize water. In the sandy area, you can use a rake to make patterns. The ridges created in raking resemble the ripples of water. Larger stones are used to create natural looking sculptures, some of the types include:
Kikyaku

stones represent earth and are prominently placed to bring harmony to the garden.
Shigyo

stones are often placed next to other stones, branching out to represent fire.
Shintai

stones are flat and horizontal. They represent water, mind, and body, and are used to harmonize rock groupings.
Taido

stones represent trees. They are tall and are placed at the back of rock groupings to represent forests.
Reisho

stones represent metal. They are low, flat, and often placed to complement Taido stones.
These are the most common stones used in Zen gardening. Looking around you may find other patterns that you like, and will help you find centering. Additionally, moss, ferns, and drooping trees can be used to create a calm and cool environment.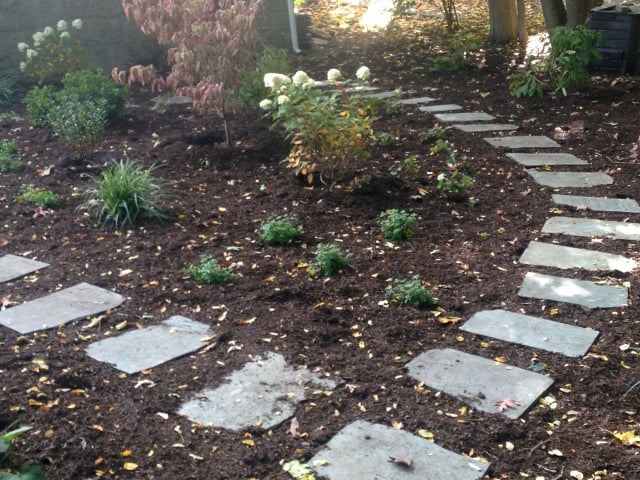 These are just a few ways to use rocks in your next landscaping project. While it might seem a little overwhelming at first, finding the right hardscapes for your yard is worth it. With the right arrangement of rocks your yard will have an aura of grounding, strength, and elegance, no matter how large or small it is.
If you need more help figuring out how to naturally use rocks in your gardening and landscaping, give us a call. At Moodscapes we have 20 years of experience in creating healing and Zenful gardens and we are always delighted to help people create a garden that can give them strength.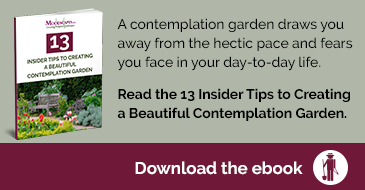 Moodscapes LLC is an organic landscape design and service company with a focus on helping you extend your life outdoors to enjoy activities on your own, as a family and with friends. We create opportunities for you to commune with and find joy and peace in nature and to live in an ecologically friendly and healthy environment. Please explore our landscape services and the portfolio that demonstrates many examples of our work.