Fountains, birdbaths, and ponds add a soothing and relaxing element to your landscaping — but they can be expensive and difficult to engineer. This short guide will give you an introduction to picking out the perfect water feature for your yard.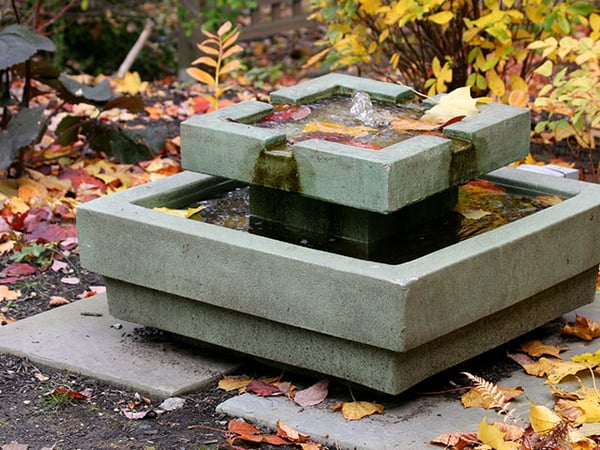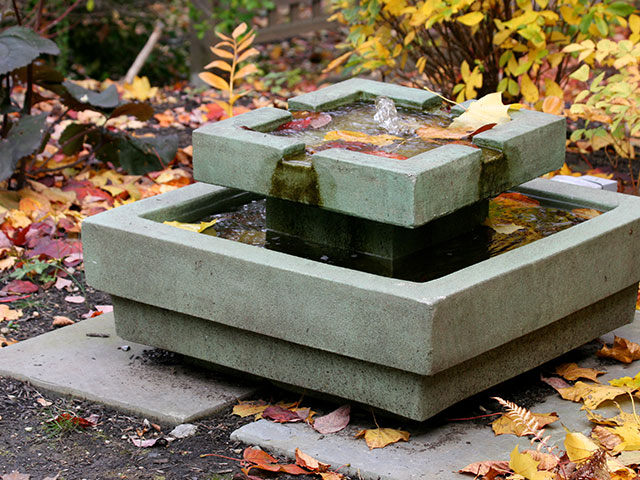 Keep the water moving to create a soothing sound
Unless you are using a small birdbath that you replace the water in regularly, you'll want to have water flow to prevent it from becoming stagnant. This movement will keep the sitting water from becoming a breeding ground for mosquitoes. The flow will also add a beautiful texture of sound to your garden. It can be as simple as water gently dribbling over rocks, a light trickle, or the noise of a fountain. The style will be dictated by how much room you have. Additionally, take care to have a balance so that the sound of water complements the natural sounds found in your landscaping.
Location and size
As you look at your yard, where would it make sense for a water feature to be? Is there a nice nook near where you like to sit and meditate in the evening, or is the center of your backyard lacking something? The location and size of your fountain or pond will depend on both how much room you have and what you're looking for - the space required for a small bubbler is very different than what's needed for a pond.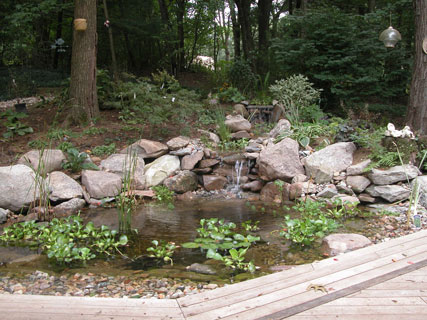 Place them near a water source
Unless you have a natural source of water that you can tap into, you'll need to run water to your new feature. You will also need electricity for a pump to keep the water flowing. While you could run hose or tube nearly anywhere in your yard the further away it is from the source, the more expensive it'll be to install. If you have an irrigation system, you may be able to tap into this, expanding the possibilities of where you can economically place your water feature. However, a good rule of thumb is to put your water feature as close as possible to water and electricity sources without disrupting the look and feel of the yard.


Complement the natural features of your yard
Place your water feature in a way that will add to the natural character of your landscaping. If your garden is small, a large pond wouldn't fit, but if you have a larger space, then this could be a nice addition. Finding the right spot and integrating the right water feature, whether it be adding a waterfall to a rocky nook or cozy pond, will make it look like it has been there forever.
Use a recirculation device to conserve water
If you're on the municipal water line, the use of water could get quite expensive. However, you can rig your new water feature to recirculate water through it and limit the amount of water you use. Of course, you will lose some water to evaporation and splashing, but this is quite limited compared to how much you would use without recirculation. A water pressure switch or a water level sensor is a low-maintenance way to make sure that the water level is adequate. These sensors will automatically turn your water source on to refill the reservoirs when the levels get too low.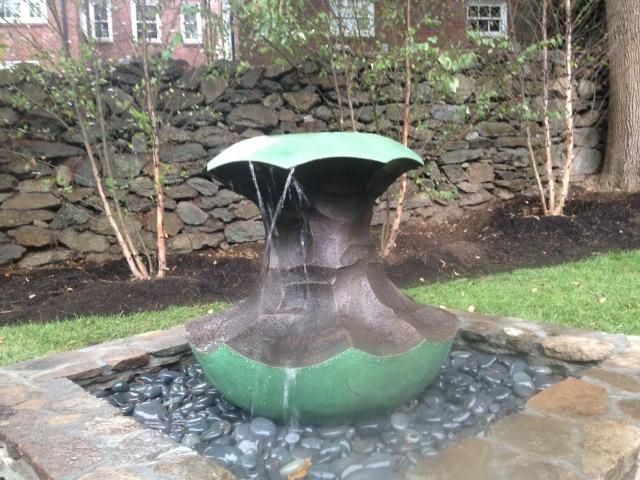 Types of water features
There are a lot of exciting water features available. Here are three classics that you may wish to consider.
1. The cored stone fountain can be an elegant option for a fountain. If you want a modest but meaningful water feature, you can pick a large rock or two that you like, make a one-inch core in the middle and create a simple fountain that recirculates the water. Here is what one person did to build his stone water fountain.
2. A pond is perfect for a larger yard. Even if you have room for a large pond in your yard, you'll want to make sure that you have a way to keep the water moving, whether it be a feeder stream or a fountain.
3. A pond-free waterfall is perfect if you like the idea of a waterfall but don't have the room for a body of water in your backyard. You can even buy kits such as this one if you want to do it yourself. These may sound complicated, but it only requires a protective liner, pump, spillway box, basin, and some piping.
Get professional help
Water features can get complicated. If you want something more complex, hire a company that can assist you with your design. The professionals will also have access to the sensors, switches, and plumbing tools that will be needed for a beautiful landscape feature that uses water to add to the sights and sounds of your yard or garden. Moodscapes has many years of experience with all types of landscaping, particularly water features — check out the section of our portfolio dedicated specifically to waterfalls, ponds, and other types of aquatic design.
To learn more about creating a calm and relaxing space in your backyard, download our free ebook, 13 Insider Tips for Creating a Beautiful Contemplation Garden.
Moodscapes LLC is an organic landscape design and service company with a focus on helping you extend your life outdoors to enjoy activities on your own, as a family and with friends. We create opportunities for you to commune with and find joy and peace in nature and to live in an ecologically friendly and healthy environment. Please explore our landscape services and the portfolio that demonstrates many examples of our work