Good landscape design is much more than simply sowing seeds and plunking a row of shrubs in the ground. There is much detail involved in landscape design that requires trained professionals who have knowledge and experience in many areas of the construction trades. Homeowners who don't fully understand the complexities of an installation project can start a DIY project thinking it will save them money only to run into unknowns that can cost considerably more than they anticipated. Starting with a well-thought-out plan from a professional landscape designer can reduce both headaches and unnecessary cost.
In fact, having a creative, functional, professional design can pay for itself many times over. An experienced landscaper knows how to analyze your property's unique topography and natural environment to design your ideal outdoor space, using the right plants and systems to support and maintain it efficiently, with minimal effort and expense.
Some of the major benefits of working with a professional landscape designer include:
Greater Return on Investment
One of the biggest concerns many homeowners have about professional landscaping is the cost. And yes, hiring a landscaper has a higher initial charge than doing it yourself. However, an experienced professional will do the job right the first time, developing and following a plan designed specifically for your property and location. Most good professional landscapers will use higher quality products than what most homeowners can buy at a national retail home improvement store. The result is a better-quality landscaping project, properly constructed and installed, that will do better, last longer, and add sustainable beauty to your home.
Superior Design
A thorough, thoughtfully-conceived landscape design creates a wonderfully integrated environment that can feature easy-care native plants; enhanced irrigation and drainage to take advantage of available water resources, both natural and installed, as needed; and lifestyle elements such as patios and firepits, pathways, water features – even outdoor kitchens and wet bars for entertaining. The only limits are your imagination.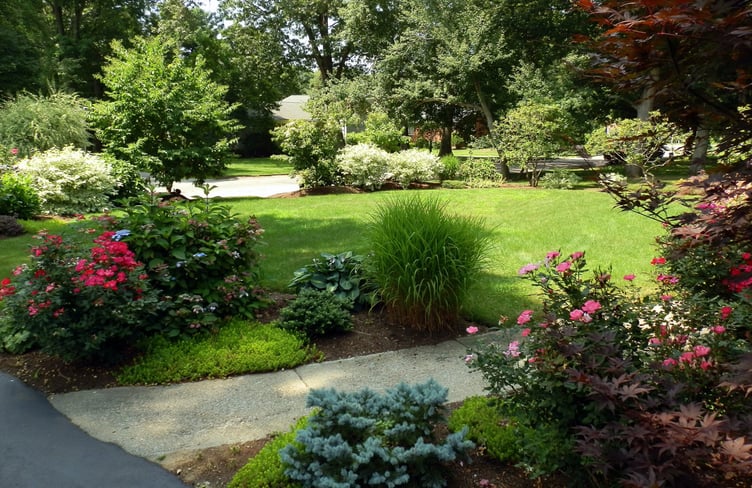 Greater Efficiency
Landscaping DIYers often fall prey to the urge to incorporate something in their project because they love how it looks in the store or online, with little thought as to whether it will be appropriate in their setting. Perhaps it's plants that are unsuitable for the location's Hardiness Zone (don't know what that is? All the more reason to work with a professional) or will outgrow the space allotted for them, requiring them to be dug up and moved. Often plants that are inappropriate for the locale require constant attention and maintenance because they're not getting enough water – or too much water – or need heavy feeding to keep them alive in an environment they weren't meant for. An inefficient landscape design and installation can be frustrating, stressful, and even exhausting as the homeowner spends an inordinate amount of time, money, and effort trying to maintain it. It's best to work with a professional for maximum efficiency and minimal hassle.
More Experience
You can rent just about anything – but do you really want to try to operate some piece of machinery you're really not familiar with? Not only will it take a lot longer, but you run the risk of causing damage and injury. A professional landscaping team has all the right equipment at their disposal and they know how to use it. Your project will get done faster, more effectively and cost-efficiently, and with much better results because they have experience and expertise.
These are just a few of the major reasons for working with a professional landscape designer. But if you're still undecided, here are some "warning signs" that you and your property could use professional landscaping help:
Your home has no curb appeal
They say that you don't get a second chance to make a first impression. This is true for houses, too, especially if you're trying to sell your home. An attractive entrance adds value and immediately makes your home more appealing to potential buyers. Even if you're not selling, you and your family will enjoy your home more. Your neighbors will appreciate it, too.
Your property lacks privacy
Homes today often sit on smaller lots, making it feel like your neighbors are right on top of you. A professional landscape designer can make tight spaces feel more expansive and include strategic plantings to create attractive privacy screens.
Your space could be more functional
Many homeowners don't know how to best utilize their outdoor space. Custom landscaping can take any backyard -- whether it's the size of a postage stamp or a sprawling green space -- and create more functional areas for recreation and entertaining that are comfortable, aesthetically appealing, and efficient.
Your property looks plain and me-too
If you live in a neighborhood where all the homes are similar in design and landscaping, a professional designer can turn dull, me-too landscaping into vibrant, dynamic, flowing, and colorful areas that make a bold statement and reflect your unique style.
Your lawn and gardens keep dying
Are you struggling to keep your lawn lush and green, your gardens colorful and vibrant, and your shrubs and trees healthy? It's likely there are underlying problems such as poor soil, moisture problems, or pests which can be diagnosed and controlled with professional landscaping help.
Your landscape is overgrown
Overgrown landscape is not only unappealing, it may be a potential safety hazard. Overhanging, dead, or dying trees can cause damage or injury and should be properly trimmed or removed. A professional landscaper can determine how to address your property's specific concerns and take appropriate action, such as thinning, moving, or pruning shrubs and trees and cutting back brush and grass to add more air, light, and beauty to your landscaping.
Your property is too dark at night
A home that's too dark at night is unsettling and even unsafe. When your grounds are not well lit, it's easy for someone to get injured in the dark and for wrongdoers to hide. A custom landscaper can work with you to create efficient and attractive lighting that highlights landscape features and brightens walkways. Your home will be safer and more attractive with a well-designed entry area that welcomes visitors to your home and discourages criminals.
If any of these issues describes your property, it's really time to consider working with landscaping professionals such as the team here at Moodscapes.
Ten questions to help you get started
If you're ready to turn your landscaping from drab to dynamite, here are ten questions we're happy to answer to get things rolling:
1. What will it cost?
Pricing can vary significantly depending on the size and scope of your project. After a thorough discussion and planning, we can provide you with an accurate, comprehensive quote that includes all labor and materials so that there are no unpleasant surprises.
2. How long will it take?
Again, that will depend on the extent of your project. However, we'll establish a realistic schedule and timetable and then focus relentlessly on completing it as planned so that your project is delivered on time and on budget.
3. What kind of gardens can you create?
We're experienced in designing and installing a wide variety of gardens and beds to fit an equally wide variety of properties, lifestyles, and architectural styles. Some basic garden styles include:
- Perennial gardens
- Herb gardens
- Vegetable gardens
- Wildlife gardens
- Rock gardens
- Japanese gardens
4. Is your approach environmentally sound?
We recognize the importance of environmental sustainability and work hard to keep all our designs and processes as environmentally friendly as possible. Our mission, in part, is to protect the local environment so we include native plants wherever possible and work with natural materials such as wood and stone, as well as natural water sources such as rainwater, groundwater, and existing water features.
5. Can you work in areas with specific water problems?
Yes. While we cannot guarantee results in areas affected by severe weather conditions or drought, we have experience in addressing conventional water problems such as flooding and seasonal dry periods. We can incorporate passive and active irrigation systems to supply water and design drainage systems to address specific issues.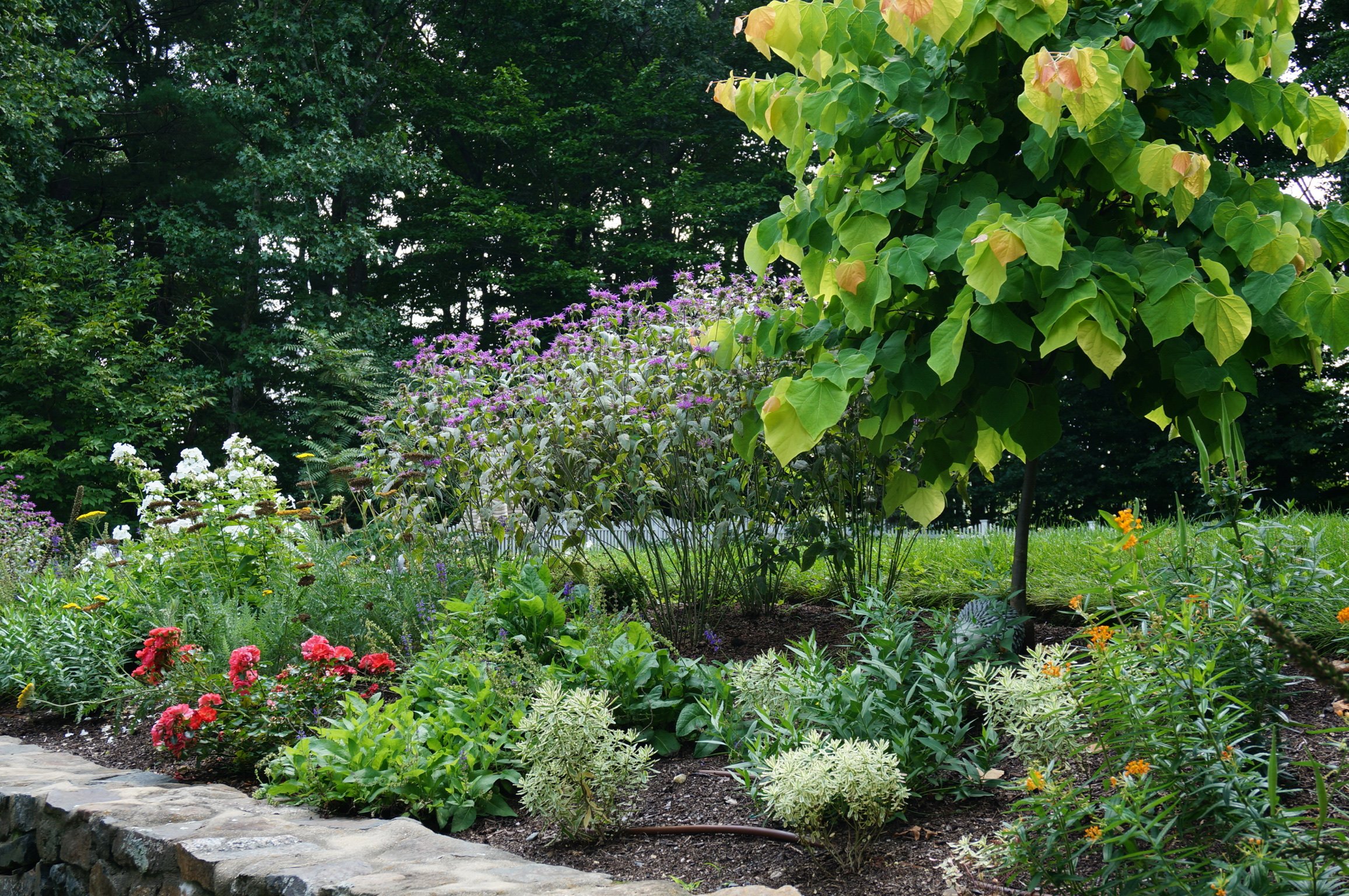 6. I have some unique property constraints – can you work with unusual gardens?
Yes. Size, shape, and composition usually don't pose any problem for us. We're happy to tackle gardens with unusual shapes, designs, and elements.
7. I have an existing garden with elements that require workarounds – are you okay working with other people's designs?
Yes. If you have an installation you wish to keep, elements you want removed, or a feature you want incorporated into a new design, we'll be happy to work within those guidelines.
8. Are you a full-service landscaping company?
Yes. We provide comprehensive landscaping services, including design, installation, and maintenance. Are you looking for something specific? We're happy to provide a la carte services, too. You can choose to have us provide just a landscape design, or handle construction and installation of a design you already have, or simply provide ongoing lawn and garden maintenance. It's your property and your choice.
9. Do you use your own employees or contractors?
We have a small, dedicated crew of our own that we use for almost everything. But some jobs are just too large or need specialized skills, so we have a small group of experienced contractors we've work with regularly for many years and with whom we've developed close relationships.
10. Will I have to speak with different sub-contractors for my project?
No. Moodscapes will manage your project from start to finish and you will have only one point of contact who can answer all of your questions and provide any information you need. We like to keep things simple and straightforward.
Transforming your landscape – regardless of the size and scope of the project you have in mind – is an exciting undertaking. Working with a variety of materials, colors, textures, shapes, and features can be a challenge, though. That's why it's always a good idea to partner with a professional landscape designer. Here at Moodscapes, our highly-experienced team is full of creative ideas, suggestions, and solutions that, combined with your ideas and vision, can turn your landscaping dreams into reality.
Download our Landscape Design eBook for more ideas and information on transforming your landscape.