Entering your yard should feel like coming home to your own little sanctuary from the world. How can you do this naturally? A fence may seem like an easy solution, but there are other ways to give your backyard some seclusion that will be efficient and better looking than iron or wooden planks.
Fences can feel cold and impersonal. In crowded, suburban and urban areas, sound and light is still carried over them. They'll also interrupt the expansive, picturesque views that you want to enjoy.
Instead of a fence, here are five simple and natural ways to help you create privacy, diminish light and sound pollution, and give your yard a warm and welcoming feel: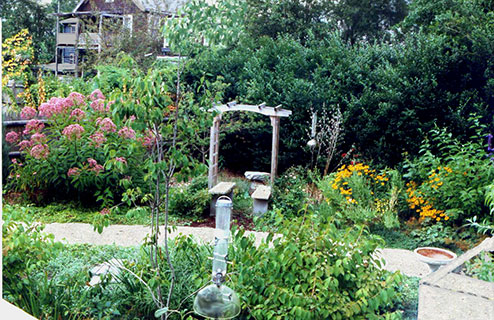 1. Use living borders
Use shrubs, trees and deciduous plants to create a textured appearance and give you the privacy you want. Plants are an attractive way to encourage wildlife and help you block out peering eyes. They also absorb light pollution and sound better than a fence. You can even use your property line to plant food producing plants, giving you solitude and a garden to pick delicious fruits and vegetables.
2. A needle evergreen border can help houses built close together
Pines, firs, and spruce trees grow tall and have thick vegetation. These are more effective than a fence for giving you privacy if you have a neighbor with a tall house. They will also provide shade on sunny afternoons. Bamboo is another option that's easy to maintain, but some types like running bamboo are invasive. If you choose to use bamboo, learn and implement appropriate containing procedures, to ensure it doesn't spread too far beyond where you plant it.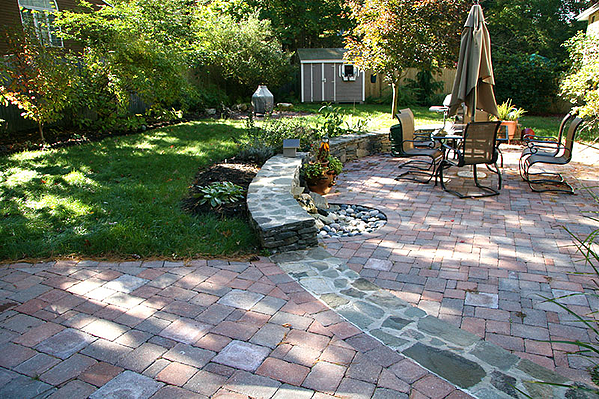 3. Use native plants
Some people enjoy the aesthetics of bamboo, but as mentioned some varieties are invasive, which can cause problems for the local ecosystem. English Ivy is another example of an invasive plant, which you can use if you have a lattice.
Native plants don't carry the same risks and will naturally flourish in your backyard. When looking for plants ask your local greenhouse or landscape company about plants that grow naturally in your area. An indigenous border garden also provides an area where wildlife can move freely.
4. Use a natural screen or lattice
If you do not need full blockage, you can use a mix of evergreen and deciduous plants that create a textured feel. When you plant this type of mix, you can add deciduous plants that will flower at different times, allowing you to enjoy beautiful flowers all summer long. Use evergreens in spots where you might need a little more privacy, such as in front of a bathroom window. This textured approach will increase your privacy without completely blocking your neighbor out.
A similar effect can be created using lattice. You can grow vines and other plants into the lattice, and break up with other types of planting and bushes. Both options will allow you to create a dynamic texture to your landscaping and increase privacy without completely cutting your neighbors off.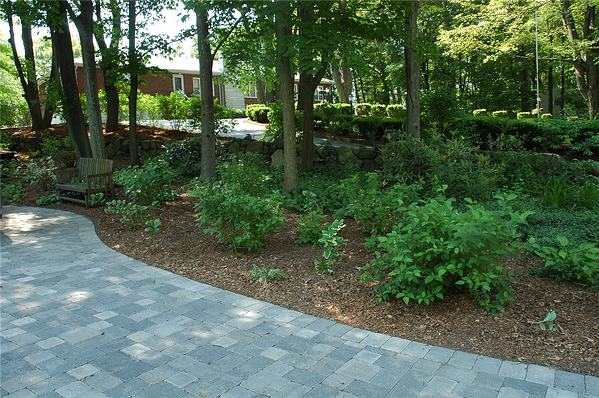 5. Create a green edge
If you don't need the full privacy of a natural fence, you can use blooming plants that delineate your property edge without completely blocking out your neighbor. With a little planning, you can have beautiful flowers blooming all summer long. Use a mix of small perennial and annual plants as well as shrubs to give the edge of your property a beautiful mix of florae.
Creating more privacy doesn't always require a fence — it can be done easily with greenery. A little bit of thought is all it takes to create a backyard that is warm and welcoming. These are just a couple of ideas. Our goal is to create a backyard that will give you privacy while increasing your enjoyment of all the nature around you.
At Moodscapes we are happy to help you find plants that will meet your privacy needs and add to your yard's aesthetic. Check out some past work in our portfolio, and if you're looking for a consultation from one of our landscape design experts, contact us today. Be sure to also download our free ebook to learn more about the essential elements for creating an outdoor living space you'll love.
Moodscapes LLC is an organic landscape design and service company with a focus on helping you extend your life outdoors to enjoy activities on your own, as a family and with friends. We create opportunities for you to commune with and find joy and peace in nature and to live in an ecologically friendly and healthy environment. Please explore our landscape services and the portfolio that demonstrates many examples of our work.