If you're in the process of landscaping your property, you may not be sure where to start. You know hardscapes can add value to your home — but maybe you're struggling to figure out exactly what features to include. These eight questions will help you make a plan to create your ideal yard.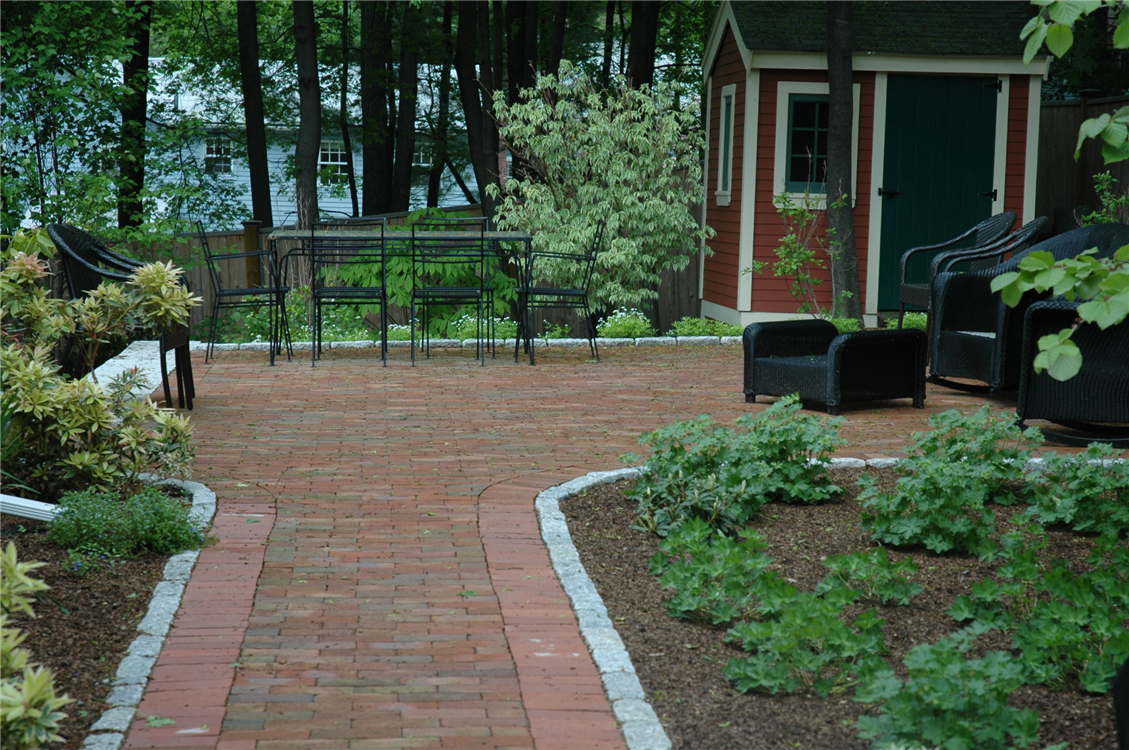 1. What do you want from your outdoor space?
Some people want to have an outdoor space for entertaining where they can host picnics, barbecues, and other outdoor gatherings. Others just want to have a safe space where their kids can play. Still other homeowners want to have a relaxing and therapeutic place they can go to unwind from life's daily stress. Once you know what you want from your yard, it's much easier to create a design plan.
2. How will flow work in your backyard?
Flow may not be the first thing that comes to mind when you start your landscaping project, but it's an essential consideration. If movement around your yard isn't convenient, you may find that you are spending less and less time in it. You want to be able to move from your house to the areas you want to sit or garden. Awkwardly placed hardscapes like benches or walls may limit you from enjoying your backyard as much as possible.
3. What kind of pathways do you want?
There are numerous ways to create pathways: Modest stepping stones, elaborate brick walkways, or concrete paths. What would look best in your yard? Remember, you don't need trails to all your sitting areas. If you don't mind a little dew on your feet in the morning, a simple bench in one corner of your yard can be very pleasing to the eye and a pleasant place to sit.
4. How much hardscape do you want?
Figuring out a good ratio will give your yard a warm, welcoming feel. If your balance is off, your backyard may not feel warm or welcoming. Too many features will make a yard feel cluttered, while not enough will give it an empty feeling. If you're planning on having a large concrete driveway, you'll need to be aware of local zoning regulations regarding the ratio of permeable and impermeable surfaces on your property. These rules can be especially strict if you live near a wetland.
5. Do you have ample shade and cooling factors?
Most hardscapes will get hot in the sun, so you'll need sufficient cooling elements like trees, pergolas, or arbors to keep the hard surfaces from overheating. Not only will these allow you to enjoy your backyard during any part of the day, they are also beautiful accents.
6. How will you use hardscapes to compliment your natural surroundings?
Use your hardscapes to highlight the natural elements of your backyard, not overpower them. For example, if you have healthy trees, don't cut them down and replace them with an outdoor cooking area. Instead, plant a garden around the tree or design a patio that features a food prep space. Figuring out how to work around these will keep your yard feeling natural and give you a place to enjoy for years to come.
7. Do you want a water element in your back yard?
A lot of people like the idea of having a water feature in their backyard, whether it be a fountain at the center of a smaller courtyard or a pond on a bigger estate. These can be very attractive, but they are also expensive to build and take up a lot of room. Additionally, they are time-consuming and costly to maintain. If this is something you want, you will need to consider these costs.
8. How will you optimize your space?
Even the smallest yard can be an enjoyable place to spend time. As you start to make your plan, keep your ideas modest and reasonable. Don't try to plant a huge tree in tiny space that will outgrow it quickly. At the same time, if you have a large yard, don't skimp - use large trees and ample gardens to complement the space. You can create an amazing space by having reasonable expectations.
As you work through creating the backyard of your dreams, keep these questions in mind. It can feel overwhelming to create a beautiful yard, but creating a space for you or others to enjoy is well worth it. Download our free ebook to learn more about the essential elements for creating an outdoor living space you'll love.
Moodscapes LLC is an organic landscape design and service company with a focus on helping you extend your life outdoors to enjoy activities on your own, as a family and with friends. We create opportunities for you to commune with and find joy and peace in nature and to live in an ecologically friendly and healthy environment. Please explore our landscape services and the portfolio that demonstrates many examples of our work.