The front of your house is the first thing that people see. What does yours say about you? Creating a warm entryway makes your house feel welcoming and gives a great first impression.
A home with great curb appeal isn't just for guests or neighbors to enjoy. When you return to your house after a long day at work, a well thought out and intentionally designed entry will make you glad to be home. Here are five ways you can create a beautiful front yard.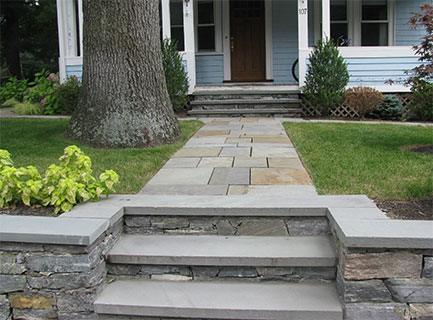 1. Consider your walkway
Does the path to your house go to the sidewalk or come in from your driveway? If you are in the process of installing a walkway think about what will look best with your house. Do you want to encourage people to walk up from the street or use your driveway? You may even want a walkway from both directions.
Regardless of how it is laid out, use plantings to complement it. Perhaps consider lining your walkway with a flower bed or shrubs.
Once you've installed your walkway, don't forget to keep it in good shape. Keeping grass and weeds from growing up in-between bricks or cracks in old cement is an easy and often overlooked way to keep your house's curb appeal up.
2. Use foundation plantings
Evergreen and deciduous shrubs and trees work great with perennials as foundation plantings. Choosing the right plants will give your garden layers and vibrant color. One key to doing this is picking out plants that are of different heights and textures. Also, keep in mind the bloom time and the natural colors of the plants, choosing ones that complement each other will be eye catching from the curb as well as from your house.
Some of the plants that work well to achieve this are evergreens such as Hinoki Cypress, Azaleas and Inkberry Holly. They will help create a textured foundation. Native deciduous plants such as Fothergilla and Summersweet extend bloom time and have a beautiful scents both early and late in the season. Stewartia has exfoliating bark that works as a focal point all winter long. These are just a few of the plants that will make excellent foundation plants for your entrance garden.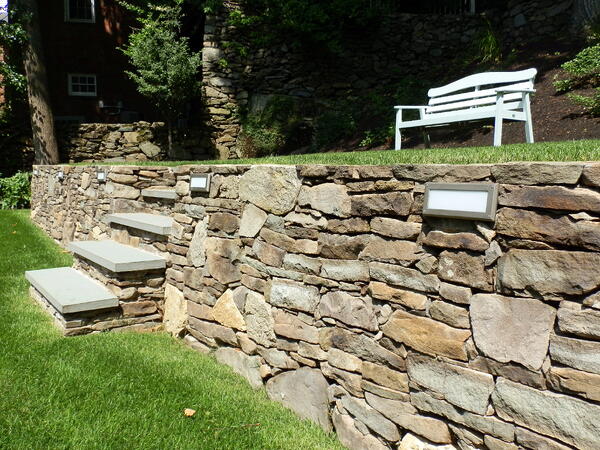 3. Use benches and other hardscapes to make your home feel welcoming
Adding a front porch, a landing for pots or a bench, a porch swing, or even a simple bench under a shade tree can give the entrance of your house warmth. You can enjoy these features on summer afternoons to relax and watch the world go by. If you are feeling social, you could invite a friend passing by to stop and enjoy a sip of lemonade.
4. Anchor your house
If your house is large, it will feel barren without an appropriate anchor. Use large trees like the native sugar maple or a large flowering native tree such as a Carolina Silverbell. These trees grow naturally and will help frame your house and are relatively easy to maintain. They will also provide the front of your home with shade to keep your house cool in the summer months.
Be careful not to go overboard. It is tempting to add lots of large plantings to your front yard, but anchor plantings can be excessive, making your house feel cluttered. Instead, complement these large trees with gardens that include smaller trees and shrubs to enhance the characteristics of the house.
5. Your entryway should be beautiful from the inside
People often forget that part of the joy of investing in great landscaping is to have a beautiful view looking out from your home. When you design your walkway, look at your house from the street, and think about what plantings will be best, where, and how the pathway will run. Then go inside and ask yourself the same question. You'll want to enjoy the view from inside your house as well.
With these ideas, the front of your house will have great curb appeal and be warm and welcoming throughout the year. Even in the dead of winter the right foundation plants will be inviting and pleasant. Make an appointment today with Moodscapes to get help making your house look beautiful from the street and inside. Be sure to also download our free ebook to learn more about the essential elements of creating an outdoor living space you'll love.
Moodscapes LLC is an organic landscape design and service company with a focus on helping you extend your life outdoors to enjoy activities on your own, as a family and with friends. We create opportunities for you to commune with and find joy and peace in nature and to live in an ecologically friendly and healthy environment. Please explore our landscape services and the portfolio that demonstrates many examples of our work.