Summer has come bringing warm afternoons, long evenings, and fireflies to add magic to the night. If you love to entertain you are probably wondering how to economically host your friends outdoors. With a little planning, you can have a yard that will be perfect for making wonderful memories.


Here are four ideas to upgrade your backyard:

1. Decide what you will need
Consider whether you want an outdoor cooking area or not. It's always nice to have a grill available to use through the summer months. More elaborate outdoor areas to prepare food may seem like a good idea, but are often redundant if the outdoor area you intend to entertain in is close to your kitchen.

Additionally, think about how many people you want to entertain. Do you want to host traditional, more intimate dinner parties with six to eight people, or do you want to have large neighborhood barbecues? If you opt for larger gatherings, do you have enough room for everyone to sit? Figuring out what types of gatherings you intend to host will help you create an area that will look beautiful and function well.

Once you know what type of gathering you want to have, you'll need to consider whether you want a patio, deck, or other type of sitting area. The size of your sitting area depends on the kind of gatherings you want to use it for.
2. Create an area with good flow

Whether you choose to have a full outdoor cooking setup or use your kitchen for all your food prep, you want to keep movement flow in mind. Those who love to cook know that being able to move freely while preparing food is critical- and it's even more important with outdoor dining areas.

The most important consideration is keeping walkways smooth and open. You don't want to be carrying a meal that you spent hours preparing down steps or across a path, only to trip over a bump and send the food flying across the lawn. Walkways should be built thoughtfully based on the location of sitting areas, the entrance to your home, and other elements of your yard.

If your kitchen is not on the same level as your entertaining area and you must walk down stairs, think about adding a landing so you can rest for a minute. A sliding door is easier to open than a conventional door. If you are getting a new door, think about getting one with a relatively low profile threshold.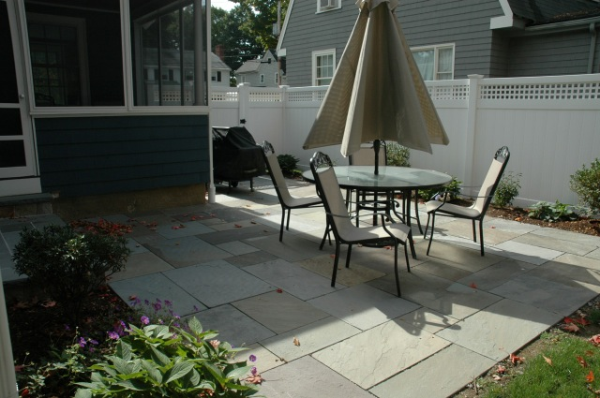 3. Who will you be entertaining?

As you're designing your entertaining area think about who you'll be hosting. Will it include older folks who may have a hard time with lots of steps, or little children who will need a dedicated place to play? If you typically enjoy the company of people who don't use stairs, look for ways to keep your backyard flat. If steps are needed, think about building a path to your entertaining area with a gentle grade instead. Similarly, if you have a young family, you can create a small play area with a sandbox or playhouse near your dining area where your children can play while you enjoy your guests. You could also get a kids' picnic table for their use while eating.

4. When do you generally entertain?

If you usually hold dinner parties that drift late into the evening, make sure you have enough lighting. There are a wide variety of ways to illuminate your yard; you want to have enough light for people to see and move, but not so much that it feels harsh and artificial. You can use small options like outdoor Christmas lights that sparkle and give your yard a magical feel. LED lights are a great option for up-lighting and low-lighting patios, pathways, dinner areas, and focal points in surrounding areas. You'll want to be sure to have enough light to keep guests safe and see what you are doing.

If you prefer afternoon gatherings and barbecues, you'll want to provide your guests with enough shade to avoid dehydration. It's the food you want to cook, not your friends! An awning, shade plants, or a pergola can help protect you and your guests from the heat of the summer sun.
Bonus tip: Use organic pest control products

The last thing you want at your party is outdoor pests like ticks and mosquitoes that ruin your fun. Products such as mosquito barriers help control these insects. These products use garlic and other natural chemicals to avoid the harsh ingredients often found in conventional pest control products.

I have been creating amazing outdoor entertainment areas for over a decade, and I'd love to help you create an area that you and your neighbors can enjoy for years to come. To learn more about the essential elements for creating a spectacular outdoor living space, download our free ebook below.
Moodscapes LLC is an organic landscape design and service company with a focus on helping you extend your life outdoors to enjoy activities on your own, as a family and with friends. We create opportunities for you to commune with and find joy and peace in nature and to live in an ecologically friendly and healthy environment. Please explore our landscape services and the portfolio that demonstrates many examples of our work.