Organic lawn care is not only better for your yard, it improves the environment and human health. But what are the differences between chemical and organic lawn care products? Is there ever a time to use chemical products?
It depends. There are certain times when chemical products can be effective, but generally speaking, these only give you a short-term solution. Organic fertilizers and care products can be more expensive up front but will help you create healthy, long-lasting landscapes that require less water in the long run.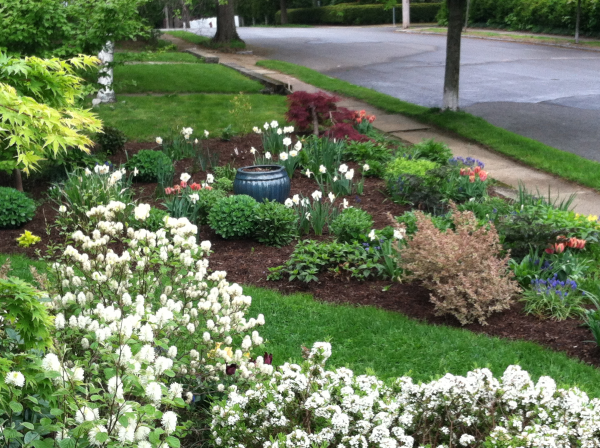 Creating healthy plants and soil
Chemical lawn treatments work to solve your problem quickly, but aren't designed to make healthy plants. They can even damage the soil. Organic products take longer both to be absorbed into the ground and to be used by the plants. However, these treatments encourage the natural growth and life cycle of plants, giving your lawn and garden longevity. Nutrients from organic fertilizers are absorbed slowly, creating a robust soil structure that will require less water over time.
Additionally, the harmful effects of the chemicals are not limited to the plant's life cycle; these substances can leach into groundwater or nearby streams. One of the most dramatic consequences of this leaching is the impact it has on smaller waterways. Excess nitrogen runoff feeds algae, causing large blooms that can create dead zones in streams and ponds, making them uninhabitable for aquatic organisms. If a sprayer is used to apply the fertilizers or pesticides, the aerosolized chemicals get into the air, where you have no control over where it goes. If these chemicals are inhaled, they can lead to respiratory issues.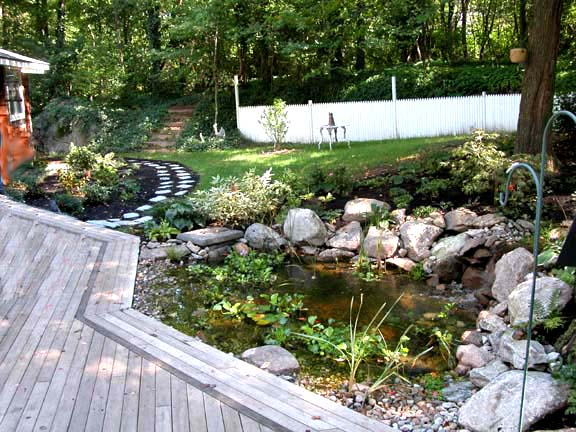 The cost of organic lawn care
The startup costs of organic lawn care aren't as expensive as you might think. Before you start, you'll want to do a soil test. A simple test starts at $15 per sample from the agricultural extension at the University of Massachusetts, Amherst, but you'll probably want to get a more comprehensive analysis, which could cost up to $33 a sample. Depending on the size of your yard, you may want to get multiple samples tested. The results you'll get back will tell you what micronutrients you need to add to the soil to make it healthy.
Once you start, you'll typically need more organic fertilizers to get the same result as chemical fertilizers. However, these fertilizers create healthier soils which will require fewer treatments and water in the long run. Chemical fertilizers will need to be repeatedly used, meaning over time, you'll end up spending more money if you primarily use these chemicals.

Time
An organic lawn or garden takes a few years to become fully mature. Where chemical fertilizers act quickly and produce nearly immediate results, they do nothing to increase the health of your soil. Organic products improve the soil structure and the life cycle of the plant. A better soil structure means that there are more nutrients available and you need to use less water.
Soil is made up of solids and pores; the quality of your soil structure is determined by the arrangement of these parts. Pores are created when individual soil granules clump and bind together. The texture has a significant influence on water and air movement, biological activity, root growth and seedling emergency.
Once your lawn has matured, it'll take less time to care for. Another benefit of an organic lawn is it requires less mowing, and you can leave the clippings after moving instead of collecting them. These clippings decompose and add nutrients to the yard, which prevent crabgrass.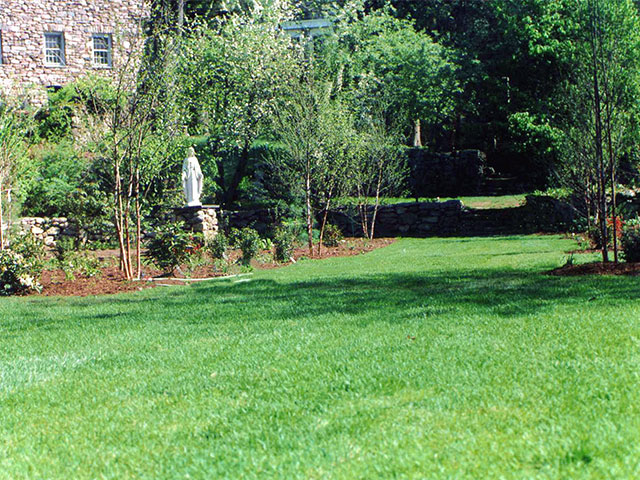 When to use chemicals
There are some particularly aggressive weeds and invasive plants that are harder to remove. In this case, you may want to treat these plants with an herbicide. One such invasive plant found in lawns is ground ivy. However, maintaining thick, healthy, and taller grass will take care of crabgrass, clover, and other weeds over time.
One thing to be aware of is that there is now Roundup for grass. As easy as this route may seem, you'll want to avoid this product, as you will then be stuck treating your lawn with pesticides which will leach into the soil. Roundup is actually a chemical compound called Glyphosate, which was discovered to be an herbicide in 1970 by John E. Franz. These powerful chemicals can kill other plants in your landscaping if you aren't careful about how you use them.
While the startup costs for an organic landscape could be (but aren't always) higher than a landscaping project driven by synthetic chemicals, over time you will get a beautiful yard that is good for the environment. At Moodscapes, we have been helping people create stunning organic landscapes for 20 years. Give us a call if you want to talk about how we can help you build a beautiful, healthy yard.
To learn more about how to create a healthy, environmentally landscape in your own backyard, download our free ebook, 10 Common Gardening Mistakes That Hurt the Environment.
Moodscapes LLC is an organic landscape design and service company with a focus on helping you extend your life outdoors to enjoy activities on your own, as a family and with friends. We create opportunities for you to commune with and find joy and peace in nature and to live in an ecologically friendly and healthy environment. Please explore our landscape services and the portfolio that demonstrates many examples of our work.