Perhaps you just bought a new house and want to be sure you maintain your yard sustainably, or you want to transition to organic landscaping to reduce your environmental footprint. Before you start, read this guide to learn what steps you should take. It doesn't need to be an overwhelming process, but you should have a good plan.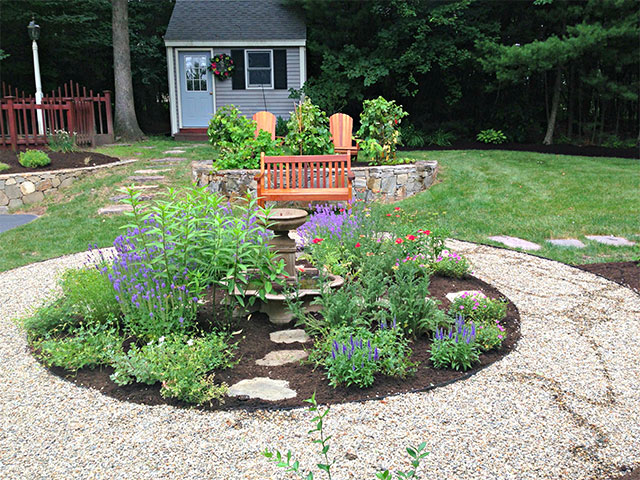 Understand your land
Each property is unique, so a one-size-fits-all approach isn't going to work. You need to understand the factors that make your microclimate different from others. These factors include the varying temperatures, wind, sunshine, slope and soil composition in different areas of your yard. You can order simple devices such as this calculator to measure the amount of sun various locations get, and this multi-function thermometer to measure wind.
A soil test is invaluable before you start. You can purchase these from your state university's agricultural extension or a private company. Ideally, you'll want to get one for each area that you're planning to landscape.
Finally, look at what is already growing. If you have trees or shrubs already in place, complement them with what you plant. Don't try to replace or destroy the natural ecology of your land. Use local plants that will flourish in your area.
Use organic practices
When people think of organic practices, they often think of reducing or eliminating chemical fertilizers and pesticides. You'll want to remove these chemicals from your gardening methods if you are using them, but organic gardening is as much about what you put into the land as reducing your ecological footprint.

Some of this reduction will come from understanding the microclimates found on your property. Using this knowledge, make a plan to incorporate a variety of local plants, sourced from a nearby nursery. These local plants will be more straightforward to maintain and will attract more pollinators.
Reducing carbon emissions is also important. The more you can use hand tools, the better. You can substitute an electric or reel push mower for a gas-powered mower. Unless your lawn is large, avoid riding lawn mowers — they produce considerably more carbon emissions than a push mower.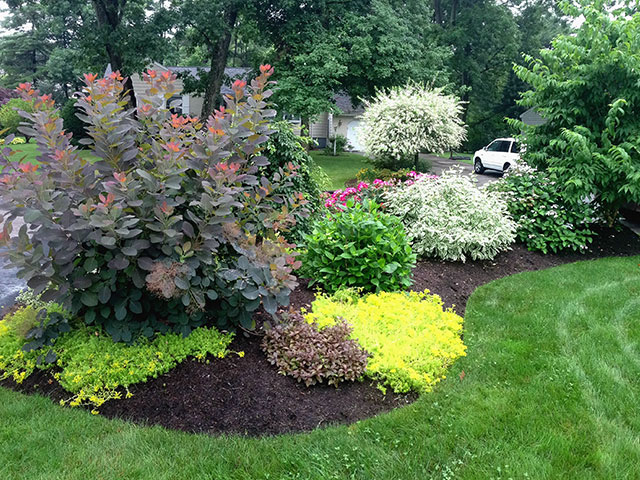 Find organic suppliers
Before you start, you'll want to find a local gardening company where you can get organic supplies. In some areas, this may be hard, but a little research goes a long way. It's likely one of your local nurseries has people on staff who have expertise in this area, and companies are becoming more aware of how important it is.
Ask your friends, coworkers, or do an internet search to find a good source. If you want assistance in many different elements of your yard care, look for a well-rounded company like Moodscapes that can both provide supplier recommendations and help guide you through each step in the process.
Create a maintenance schedule
The final step you'll want to take before you get started on your organic landscaping project is to create a maintenance schedule. This plan will help you control the amount of fertilizer you use, how much water you give your plants, and when you cut your grass.
Think about what plants you have and your climate, and then use that information to make a consistent watering schedule. The schedule will help you limit the amount of water you use.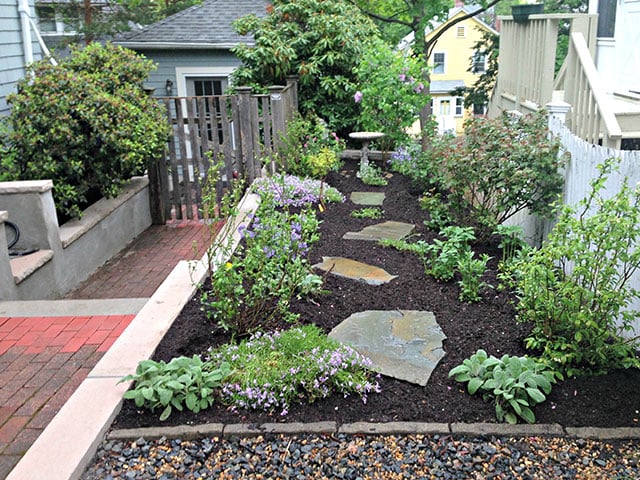 Get outside help
Once you know your goals, you may want to contract with a skilled organic landscape company. They can help you from the very beginning by performing soil tests, creating a plan, and implementing it, or they can just come in to help with the heavy work. How much assistance you need will depend on your time, budget, and needs.
Here at Moodscapes, we've been creating organic landscaping solutions for decades and would be excited to help you create the sustainable garden of your dreams. If you're looking for help, give us a call, and we'll help you come up with the perfect organic solution for your yard.
To learn more about creating a healthy, environmentally-friendly landscape in your own backyard, download our free ebook, 10 Common Gardening Mistakes That Hurt the Environment.
Moodscapes LLC is an organic landscape design and service company with a focus on helping you extend your life outdoors to enjoy activities on your own, as a family and with friends. We create opportunities for you to commune with and find joy and peace in nature and to live in an ecologically friendly and healthy environment. Please explore our landscape services and the portfolio that demonstrates many examples of our work.